Network

23 Feb

Public Accounts Committee makes recommendations for Government and Network Rail for future rail projects following Thameslink

Network

23 Feb

Progress in the past 12 months on HS2

Network

23 Feb

Night Overground extended from tonight

Network

23 Feb

£130 million resignalling at Bristol Temple Meads this Easter

Network

22 Feb

RSSB research with GWR '387s' suggests that braking distances in low adhesion could be halved if improved sanders are adopted by train operators.

Network

22 Feb

Potential HS2 passengers have high expectations of technology and customer service says report

Network

22 Feb

FirstGroup rail revenues rise, but highlights 'infrastructure challenges'

Fleet

22 Feb

New trains for Cambridge and Peterborough enter traffic

Network

21 Feb

First battery-powered Vivarail Class 230 almost ready for main line testing

Network

21 Feb

"More scientific approach" needed to measuring and specifying seat comfort says RSSB

Fleet

21 Feb

Construction underway on first Bombardier-built Aventra for GA

Fleet

19 Feb

DRS '37/4' returns to the main line following lengthy rebuild

Network

19 Feb

Aventras in traffic first for Greater Anglia according to Network Rail's Strategic Business Plan

Network

19 Feb

Kenilworth station opening date, but no Sunday service.

Network

16 Feb

Potential timings for a Thurso Sleeper service revealed

Network

16 Feb

EMT names power car in recognition of emergency services response to Nottingham station fire

Network

16 Feb

Plans submitted for test track at Long Marston
Bombardier completes final Electrostar completed at Derby Litchurch Lane.
Seven years ago and due to the success of the RAIL 100 Breakfast Club London, the first meeting of the RAIL 100 Breakfast Club Scotland took place. It has gone from strenghth to strength.

Membership includes 3 breakfast meetings in Glasgow and a dinner in Edinburgh.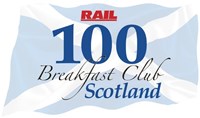 Find out more about this event
---
---