Welcome to RAIL Business Events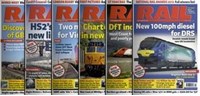 Since 1981 RAIL has been designed to be the first choice for anyone interested in today's railway, whatever their reason. RAIL's second-to-none news coverage is given context by its top-quality opinion, comment and analysis pieces from Britain's leading expert commentators.

In support of the magazine, RAIL's own dedicated business events team produces a range of high-value events for the rail industry.

RAIL Business Events has a long history of engaging with delegates through an extensive portfolio of events. Each of these events facilitates networking and business opportunities for both delegates and sponsors. We also work closely with sponsors to ensure that they achieve their objectives when sponsoring one of our prestigious events.
There is a limited number of sponsorship opportunities at these events. For more details contact Cristina Melenchon, [email protected] or 01733 395094
Our events are listed below.

September 13 2018, Grosvenor House, Park Lane, London
A celebration of the rail industry, rewarding those who have made a huge difference to the railway network.
To book your table or for sponsorship opportunities - Cristina Melenchon, Events Manager, 01733 395094, [email protected]
Past Events

June 15, 2017, Birmingham Conference and Exhibition Centre
HS2, the biggest civil engineering project in Europe, will transform this country's connectivity, creating around 25,000 jobs and fuelling economic benefits worth more than £100 billion to the UK.
In 2009 Lord Adonis launched High Speed 2 and we are now going to see this become reality, with Royal Assent anticipated imminently, marking the project's most important milestone so far. Permission to put spades in the ground will start a whole new wave of conversations, debates and contracts. The 2017 National Rail Conference will be at the centre of those discussions.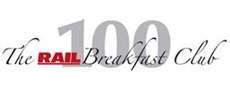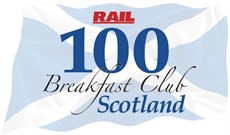 Seven years ago and due to the success of the RAIL 100 Breakfast Club London, the first meeting of the RAIL 100 Breakfast Club Scotland took place. It has gone from strenghth to strength.

Membership includes 3 breakfast meetings in Glasgow and a dinner in Edinburgh.

---
---