Network

17 Oct

DfT could extend Arriva's CrossCountry deal by five years

Network

16 Oct

ScotRail Class 385s return to passenger traffic following stoppage for brake problems

Network

16 Oct

Battery power an option for Class 350/2s

Network

12 Oct

London Bridge heroes collect medals

RAIL Features

10 Oct

How CAF is building Civity trains for Northern in Spain

Network

10 Oct

ORR suspends approval for LNER IEPs - yet Great Western IEPs remain in use

Network

10 Oct

First refurbished High Speed Train enters traffic with ScotRail next week

Network

9 Oct

Longannet and Hunterston shortlisted for Talgo factory site

Network

9 Oct

Four UK factory locations shortlisted by Spanish firm Talgo

Network

2 Oct

Railfreight on the rise as volume carried in the Q1 2018-2019 is up against the same period last year

Network

2 Oct

RIA wants Government to increase funding for research and development of rolling stock, as well as calling for assurances that electrification remains an option

Network

2 Oct

Alstom eyes new orders including signalling and trains

Network

2 Oct

Government launches new rules allowing passengers to claim compensation on smartcards and mobile phones

Network

1 Oct

Network Rail launches its annual battle against leaves

Network

1 Oct

GTR puts first Class 717 into passenger traffic.

Network

1 Oct

Introduction of CAF-built Mk 5s delayed by Caledonian Sleeper until next year.

Fleet

1 Oct

As Renatus projects nears completion, Greater Anglia works with Eversholt Rail over refurbished Class 321 problems
The nominations are in. Now we need YOU to vote for your favourite.
Seven years ago and due to the success of the RAIL 100 Breakfast Club London, the first meeting of the RAIL 100 Breakfast Club Scotland took place. It has gone from strenghth to strength.
Membership includes 3 breakfast meetings in Glasgow and a dinner in Edinburgh.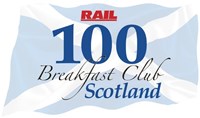 Find out more about this event
---
---