Fleet

13 Dec

DRS admits use of heritage vehicles is "no longer economically, technically or environmentally viable for the entirety of the current strategy period".

Network

12 Dec

DRS could supply freight and passenger trains as part of the construction of a new nuclear power station in West Cumbria, following consultancy work.

Network

12 Dec

Author of the NIC's forthcoming reports into the future of freight moves reassure rail freight chiefs.

Network

12 Dec

Electric trains start running between Edinburgh Waverley and Glasgow Queen Street

Network

21 Nov

Chris Gibb doubts any passengers pay attention to posters displayed at stations detailing operator performance. "They're only interested in their train."

Network

21 Nov

Phased introduction of services on Thameslink means 24 trains per hour will now be delivered in December 2019.

Network

8 Nov

GB Railfreight wins new contract to start running its first intermodal train to Southampton.

Network

8 Nov

An end in sight to long-running dispute as ASLEF and operator reach agreement

Network

8 Nov

Talgo tells RAIL it is interested in developing a test track in the UK.

Fleet

7 Nov

Interior of first complete Class 385 unveiled by ScotRail

Network

7 Nov

GTR puts Class 700s into traffic on Peterborough route.

Fleet

6 Nov

Great Western Railway Class 166s have begun running to Weston-super-Mare as operator increases capacity in Bristol area.

RAIL Features

6 Nov

Approaching the tenth anniversary of HS1, and to celebrate the tenth anniversary of Ashford depot, a look at the regenerative effect Javelins have had on Kent.

Network

6 Nov

In consultation for next franchise, East Midlands Airport calls for more trains to call at East Midlands Parkway.

Network

6 Nov

NR's emerging plans to operate, maintain and renew the rail network between 2019 and 2024 are 'robust', according to independent risk and assurance experts.

Network

2 Nov

First electric train runs from Edinburgh Waverley to Glasgow Queen Street on newly-electrified route.

Network

2 Nov

Alstom, Bombardier, Hitachi, Siemens and Talgo shortlisted to tender for £2.75 billion HS2 trains contract. Winner announced in 2019.
Bombardier completes final Electrostar completed at Derby Litchurch Lane.
Seven years ago and due to the success of the RAIL 100 Breakfast Club London, the first meeting of the RAIL 100 Breakfast Club Scotland took place. It has gone from strenghth to strength.

Membership includes 3 breakfast meetings in Glasgow and a dinner in Edinburgh.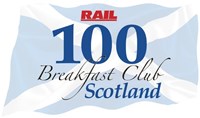 Find out more about this event
---
---