Fleet

19 Feb

DRS '37/4' returns to the main line following lengthy rebuild

Network

19 Feb

Aventras in traffic first for Greater Anglia according to Network Rail's Strategic Business Plan

Network

19 Feb

Kenilworth station opening date, but no Sunday service.

Network

16 Feb

Potential timings for a Thurso Sleeper service revealed

Network

16 Feb

EMT names power car in recognition of emergency services response to Nottingham station fire

Network

16 Feb

Plans submitted for test track at Long Marston

Fleet

15 Feb

What trains are due off-lease?

Network

15 Feb

TPE could run Boxing Day trains

Fleet

15 Feb

Electric Azumas on test ahead of entry into traffic later this year

Fleet

15 Feb

DRS to supply Class 88s to two diesel galas

Fleet

15 Feb

Through trains from Ealing Broadway to serve Swanage Railway gala this May

Fleet

15 Feb

Cascades key to Class 314 withdrawals

Network

13 Feb

CAF-built Class 195s and '331s' could be just the start of a fleet revolution for Northern

Network

13 Feb

Network Rail outlines plans for £47 billion expenditure in CP6.

Current Trains

13 Feb

RICHARD CLINNICK investigates the work being done to modify Great Western High Speed Trains before their cascade to north of the border

Galleries

12 Feb

Pictures from RAIL's trip to Pistoia to visit the Class 802.
Bombardier completes final Electrostar completed at Derby Litchurch Lane.
Seven years ago and due to the success of the RAIL 100 Breakfast Club London, the first meeting of the RAIL 100 Breakfast Club Scotland took place. It has gone from strenghth to strength.

Membership includes 3 breakfast meetings in Glasgow and a dinner in Edinburgh.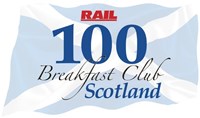 Find out more about this event
---
---