Network

14 Mar

RFG chairman blasts ORR, claiming it's trying to manipulate the freight market with its consultation on network access charges for trains carrying biomass.

Network

13 Mar

New depot being considered for Greater Anglia as problems mount at Brantham

RAIL Features

10 Mar

A look back to plans for deployment of modified locomotives across former Southern Region to retrieve stricken electric multiple units. RICHARD CLINNICK reports

Network

9 Mar

All 1,140 vehicles have been completed.

Network

6 Mar

"Seats normally become more comfortable over time, through use," - Rail Minister's reaction to question over seating on new trains

Network

5 Mar

Grayling claims bi-modes will be delivered in 'early-2020s', yet HSTs must be withdrawn by the end of next year, leaving a shortfall of sets on MML

Fleet

5 Mar

13 Aventras accepted for TfL Rail as first nine-car '345s' begin testing on the Great Western Main Line

Network

2 Mar

Dawlish Sea Wall closed as Storm Emma punches hole in infrastructure

Network

2 Mar

Siemens could build factory at Goole

Network

1 Mar

West Midlands Trains deal confirmed for Vivarail Class 230s.

Network

28 Feb

West Midlands Rail eyes part of CrossCountry contract

Network

27 Feb

Sidings resurrected for Greater Anglia fleets

Network

27 Feb

Funding approved for adaptable carriage

Network

27 Feb

New report breaks down value of rail to the UK economy.

Network

26 Feb

TfL Rail Class 345 enters Crossrail tunnel under own power last night

Network

23 Feb

Public Accounts Committee makes recommendations for Government and Network Rail for future rail projects following Thameslink

Network

23 Feb

Progress in the past 12 months on HS2
Bombardier completes final Electrostar completed at Derby Litchurch Lane.
Seven years ago and due to the success of the RAIL 100 Breakfast Club London, the first meeting of the RAIL 100 Breakfast Club Scotland took place. It has gone from strenghth to strength.

Membership includes 3 breakfast meetings in Glasgow and a dinner in Edinburgh.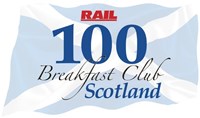 Find out more about this event
---
---