Network

13 Dec

Passenger numbers boosted by upturn in London and South East sector, but Long Distance and Regional figures drop

Network

12 Dec

Electric trains start serving Alloa, Dunblane and Stirling as ScotRail brings more Class 385s into traffic

Network

12 Dec

72% of respondents agreed with plans for link to UK's largest airport

Network

12 Dec

Three busiest stations in Britain record fall in passenger numbers

Network

12 Dec

Industry first for Greater Anglia's Class 153 DMU fleet

Network

12 Dec

Released papers show then-chairman Sir Terry Morgan raised concerns about the opening of Crossrail's central section with TfL and Sadiq Khan in July

Network

12 Dec

Delays to Crossrail and lower demand for transport means TfL expects to break even a year later than planned.

Network

11 Dec

Crossrail delayed with no new opening date given.

RAIL Features

9 Dec

Only one in eight people working in the rail industry are women. And in some areas the figure is much lower than that...

RAIL Features

9 Dec

PAUL STEPHEN asks if the industry is any closer to reaching a lasting resolution

RAIL Features

8 Dec

PAUL BIGLAND kicks off his latest biennial three-part All-Line Rail Rover trip

RAIL Features

8 Dec

DAVID ALLEN examines past, present and future developments on the Aberdeen to Inverness Line

RAIL Features

8 Dec

RICHARD CLINNICK visits the Berlin trade show to learn about the next generation of rail vehicles

RAIL Features

7 Dec

a series of personal touches ensure that Merseyrail deservedly scooped the Customer Service Excellence award at RAIL's National Rail Awards

Network

6 Dec

Doubling exports by 2025 and reducing cost of digital signalling part of Government's Rail Sector Deal

Network

6 Dec

Rail review author seeks views from passengers, businesses, investors and local governments.

RAIL Features

6 Dec

implementation and the build-up to what has become one of Britain's most prolonged industrial actions
72% of respondents agreed with plans for link to UK's largest airport
Crossrail delayed with no new opening date given.
Released papers show then-chairman Sir Terry Morgan raised concerns about the opening of Crossrail's central section with TfL and Sadiq Khan in July
Seven years ago and due to the success of the RAIL 100 Breakfast Club London, the first meeting of the RAIL 100 Breakfast Club Scotland took place. It has gone from strenghth to strength.
Membership includes 3 breakfast meetings in Glasgow and a dinner in Edinburgh.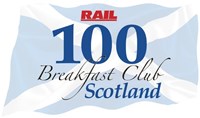 Find out more about this event
---
---