Network

2 Jul

Ambitions to restore passenger services on the Northumberland Line have received approval from ministers, after passing a major planning hurdle. 

Network

1 Jul

The Office of Rail and Road has launched a consultation on proposals for an operating model for the future Rail Ombudsman. 

Network

30 Jun

A plan for South Cumbria, setting out realistic investment targets for the region's lines with its local operator at its core, is aiming for 'quick wins'.

Network

20 Jun

Associated British Ports (ABP) is handing over operations at Hams Hall rail freight terminal to Maritime Transport from July 3.

Network

19 Jun

Britain's longest-running passenger operator, Chiltern Railways, has been awarded a six-year National Rail Contract (NRC) with a commitment to decarbonisation

Network

17 Jun

Derbyshire-based maintenance company MTMS has won a three-year contract with Hitachi Rail to look after its Train Maintenance Centres and Class 800 IEP trains

Network

16 Jun

The first court hearing has taken place in prosecutions against the owner, operator and driver involved in the Croydon tram crash on November 9 2016.

Network

16 Jun

Rail accident investigators are assessing a near-miss incident on a pedestrian level crossing in Hampshire. 

Network

15 Jun

Great Western Railway has been awarded a National Rail Contract to continue operating the GWR network until at least June 21 2025. 

Network

14 Jun

Static testing has begun at Hitachi Rail's Newton Aycliffe factory on the first of Avanti West Coast's new £350 million fleet of trains. 

Network

8 Jun

The appointment of consultants to prepare a business case is seen as an important step towards the return of the 3.3-mile Oswestry-Gobowen line

Network

7 Jun

Jubilee was marked across the rail network, as part of a nationwide four-day celebration of her 70-year reign.

Network

7 Jun

A new video projection screen has been installed at London Euston, to remember the station's most famous (albeit long-lost) architectural icon. 

Network

6 Jun

No railway station in the UK achieves a perfect score for accessibility, according to research by Age UK.

Network

3 Jun

Stop and challenge: That's the explicit empowerment DB Cargo UK is giving to all its 2,200 staff, to intervene and stop any activity that they see may be unsafe

Network

2 Jun

Transport for Wales says rail services will continue to be affected "for the rest of 2022", following a train fire near Craven Arms in Shropshire on May 22.

Network

1 Jun

Perry Barr station reopened on May 29, following a year-long rebuilding project.

Network

31 May

The Rail Accelerator and Innovation Solutions hub for Enterprise (RaisE) has been officially opened in Goole.

Network

30 May

Restoration work on the 183-year-old original station building at Birmingham Curzon Street has ground to a halt.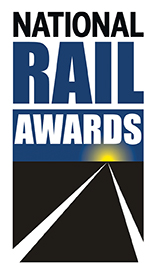 The National Rail Awards will take place September 15 at the Grosvenor House Hotel in London's Park Lane. Once again hosted by RAIL's Managing Editor & Events Director Nigel Harris and BBC Presenter Huw Edwards.
To find out about more, please contact Sandra Evitt, Events Manager, 01733 468 123, [email protected]
Find out more about this event
---
---