Network

20 Jul

Proposed route upgrade will include wires - a year after extensions to Swansea, the Lake District and northern section of the Midland Main Line were cancelled

Network

20 Jul

New figures released by Network Rail reveal more than a quarter of teenagers behave in ways that could endanger their life on the railway

Network

20 Jul

Could more freight by rail be carried between China and the UK?

RAIL Features

18 Jul

RICHARD CLINNICK visits Stadler's factory in Switzerland, to learn more about the new trains being built for Greater Anglia

Network

17 Jul

China is "very interested" in helping to shape the future of the UK's high-speed rail network.

RAIL Features

15 Jul

RICHARD CLINNICK looks back at the HST launch in 1978, speaks to those who were there, and compares the HSTs with the impending arrival of the Azumas

RAIL Features

14 Jul

EXCLUSIVE: The first main line cab ride in a Great Western Railway Class 800 Intercity Express Train

Network

13 Jul

Sir Terry Morgan to replace Sir David Higgins as HS2 Ltd Chairman next month

Network

12 Jul

Network Rail nears end of sea wall studies

Fleet

12 Jul

Up to ten Class 50s could start at Severn Valley Railway gala in October

Network

12 Jul

Production under way on Greater Anglia '720' Aventras

Network

11 Jul

"Timetables are there for a reason" - Thameslink Industry Readiness Board Chairman Chris Gibb tells the Transport Select Committee

Network

11 Jul

"All of the issues on May 20 could have been dealt with, with a little bit more time" - Chris Gibb tells MPs at Transport Select Committee

Network

11 Jul

Government requests strategic business case to reopen Middlewich line to passengers

Network

10 Jul

Talgo expects to make an announcement shortly regarding the location of its UK factory

Network

10 Jul

Intercity Express Trains set to continue serving Cardiff on diesel mode.

Network

10 Jul

Eight operators will continue with their May timetable for 12 months instead of changing in December
Bombardier completes final Electrostar completed at Derby Litchurch Lane.
Seven years ago and due to the success of the RAIL 100 Breakfast Club London, the first meeting of the RAIL 100 Breakfast Club Scotland took place. It has gone from strenghth to strength.

Membership includes 3 breakfast meetings in Glasgow and a dinner in Edinburgh.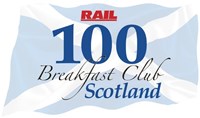 Find out more about this event
---
---