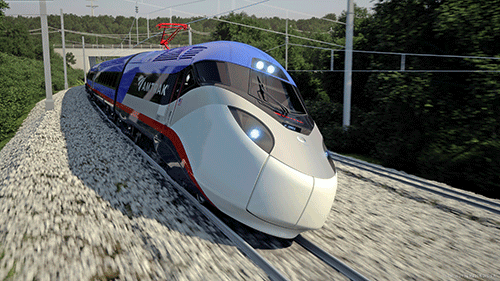 Alstom is certainly no newcomer to high-speed rail, having pioneered its use across Europe and, indeed, the UK with its Class 373 Eurostars, Britain's first very high speed train. With a fleet of around 1,000 high-speed trains operating in 20 different countries and across 16 borders, Alstom Avelia trains carried an estimated four billion passengers during 35 years of frontline service.
Calling on nearly four decades of experience, Alstom has positioned itself as a world leader in innovation. Never has this been more apparent than in the company's native France, where its first TGV was introduced in 1981, and set again the world speed record on rail 26 years later in co-operation with SNCF. A modified double-deck TGV secured this status by hitting a top speed of 357.2mph under test conditions while running on a newly built but yet-to-be-opened high-speed line between Strasbourg and Paris in 2007.
This test allowed an increase in the TGV's maximum speed in passenger service to 200mph, the first in the world.
Complementing the TGV is the company's AGV trainsets, which entered service in Italy in 2012. Part of the Avelia range, these trains can reach speeds in commercial service of up to 220mph (360kph). It is also the first train to combine articulated bogies with distributed traction, providing the same ride quality benefits as it does in Alstom's concentrated traction trains. And this concern for passenger experience and comfort also explains the importance of other Alstom technologies such as tilt.
Closer to home and Alstom also supplied some of the UK's most high-profile, high-speed trains, including 56 Class 390 Pendolinos, in service with Virgin Trains on the West Coast Main Line, and 31 Class 373 Eurostars on High Speed 1.
Also part of the Avelia range, the Pendolino heralded the arrival of tilting technology in the UK, developed from British Rail's experimental Advanced Passenger Trains, enabling them to run at up to 125mph on curved conventional track. Meanwhile, the Eurostars run at speeds of up to 186mph on HS1, which was built to European gauge, and is much straighter.
Alstom's tilting technology has been taken a step further by its Avelia Liberty high-speed train, ordered by Amtrak in August to run on the Northeast Corridor (NEC) line between Boston and Washington DC. Unlike the AGV and the Pendolino, the Avelia Liberty is equipped with contracted traction and is capable of running at 186mph with tilting bogies and at 220mph with standard ones.
The tilting technology is key to delivering a good passenger experience on sinuous rail lines. Much like the West Coast Main Line here in the UK, the NEC has curvy conventional lines that the new train will have to run on. Tilt enables much faster running over these tracks, while delivering excellent rider comfort.
With a well-deserved reputation for delivering high-speed trains to run on both conventional track and designated high-speed lines, Alstom is monitoring developments closely as it awaits next year's announcement of rolling stock specifications for HS2.
Invitations to Tender are expected to be issued in the spring, with Phase 1 of HS2 set for completion in 2026.
"Alstom is the only train manufacturer to have such a wide range of solutions to choose from," High Speed Trains Portfolio Director Jamie Borrell tells RAIL.
"The passenger is always central to our designs. Tilt and articulation are key technologies that improve the passenger experience and ride quality, and we're the first to fit tilt to very high speed trains. We are very proud of the Amtrak contract, as NEC is a complex line. We are combining high speed with heavy freight traffic, so we needed to find a solution to enhance speed and comfort while running on heavy duty rails.
"But every case is different, and this is the force of the Avelia range. There may be an Alstom tilting design that works in the UK and HS2. Or it could be a very different train, such as double-decker cars, that would run on HS2 but not conventional lines.
"The AGV would also be an interesting solution. With distributed power and articulated bogies, it gives us other possibilities. Whatever the challenge, Alstom's Avelia range features solutions to suit all scenarios."
Alstom presented its double-decker train concept at the Palace of Westminster on May 24. This Very High Speed train, using concentrated power, would be available only in European gauge, precluding its use on the conventional national network.
The double-decker trains (which could also be ordered in single-deck version for the conventional network) would be capable of operating at 224mph - the maximum speed currently required by HS2, and a higher speed than ever before on UK rails.
Like the AGV, they will also be fitted with articulated bogies, which as well as improving comfort, can also enhance safety by improving rigidity of the trainset, reduce costs through fewer components, and save weight - meaning they could cause less wear and tear to the infrastructure.
Speaking at RAIL's National Rail Conference in November 2015, Alstom's HS2 director Henrik Anderberg said: "Our unique articulated train design means each car is supported by the next car through robust articulation, and bogies are placed under the supporting end of each car. We build both articulated and non-articulated trains, but for very high speeds we prefer articulation. While the main reason is safety, it also means a smoother and better ride, less noise for passengers and wider interiors.
"Our articulation allows for fewer bogies, which implies lower maintenance costs for the operator. It also means improved aerodynamics and less weight, resulting in significant energy savings."
At the launch in Westminster, Alstom said that the double-decker trains would offer 40% more capacity than existing, equivalent trains, and that could translate into bigger and better seats for passengers, giving 'business class' levels of comfort. Its lower construction costs could also translate into cheaper fares for passengers.
More seats could also prove attractive, due to HS2's promise to bring two-thirds of the population of northern England (around ten million people) within two hours of the capital.
With any procurement of Alstom rolling stock comes its customisable maintenance programme, called Health Hub. This provides real-time diagnostic information on train performance to ensure maximum availability.
An added option to Health Hub is TrainScanner, which has been installed at Manchester Longsight Depot to scan Virgin Trains' Pendolino fleet with lasers and cameras. This system captures data about the condition of equipment on passing trains, and makes predictions about remaining service life. The technology not only reduces inspection time but also obviates visual inspection, improves safety, and reduces the possibility of human error. The system then initiates a cycle of predictive maintenance, further reducing the number of interventions by maintenance engineers.
Alstom has also developed its TrackTracer programme for deployment on operational trains, enabling track engineers to monitor the condition of track through telemetry, which could be of particular value to HS2.
Alstom has also given strong indications that it is committed to bringing manufacturing jobs to the UK should its bid for new rolling stock such as New Tube for London be successful. The firm has suggested that it could build trains at its new £22.3m training academy and technology centre, currently under construction near Widnes.
The 300,000 sq ft facility is being built to provide 15,000 days of training per year to Alstom staff, and those from its supply chain, and to carry out some of the company's UK maintenance and modernisation contracts. First up, and following its opening in May 2017, 80 jobs will be created from a £25.3m contract to repaint Virgin Trains' fleet of 56 Class 390 Pendolinos, with the potential for hundreds more jobs to follow, depending on future workloads.
On October 7, the company held a ceremony to mark the beginning of work on the training facility. There, Alstom MD for the UK & Ireland Nick Crossfield told RAIL: "We are engaged in the development of rolling stock and are actively bidding in this area. If we had a significant amount of rolling stock to deliver (in the UK) then we would do a large part of that in Widnes.
"This is a significant investment in the UK, and it demonstrates Alstom's continued commitment to the UK market."
It's a commitment that will surely grow deeper if Alstom is given the opportunity to build the next generation of high-speed trains for the UK.