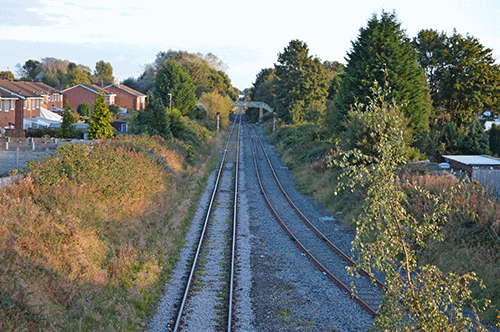 On first impressions, Middlewich in Cheshire does not appear to be a particularly significant place.
Overshadowed by the historical Romanesque splendour of its county town of Chester 20 miles due west, it also lies on the doorstep of Alderley Edge, Knutsford and Cheshire's Golden Triangle - home to affluent communities of famous footballing residents and ostentatious displays of wealth.
Middlewich's principal historical significance comes from the salt that has been mined there for 2,000 years, and in the related group of nearby settlements that share the same ancient suffix - Nantwich, Leftwich and Northwich.
Firmly in the present day, and there is an open wound running through this quant market town of approximately 14,000 residents, into which salt of the more proverbial kind is being rubbed.
That's because there is a railway here but no longer a station, and an almost daily flow of rail traffic that is predominantly freight and so carries no passengers.
But it hasn't always been this way. Opened in July 1878, Middlewich station was the sole stop on the 8½-mile line built a year earlier by the London and North Western Railway, to connect Sandbach and Crewe to the south with Northwich and the Mid Cheshire Line (which runs from Manchester to Chester) to the north.
It was built as a single-track railway with provision to be doubled at a later date. But traffic volumes would never justify this along its entire length, and just a single passing loop was put in at the line's midway point at Middlewich.
Primarily intended to serve the area's lucrative salt trade, passenger volumes were never particularly high. Services had dwindled to just four weekday trains in each direction by the time British Railways closed Middlewich station to passengers in a pre-Beeching round of efficiencies in January 1960. The station was finally closed to goods trains in November 1967.
Throughout the 1970s and 1980s, against a constant threat of closure, the line clung on in a freight-only capacity, until RAIL published a short article in April 1992 (RAIL 172) announcing that the northern half of the line from Middlewich to Northwich Junction had indeed been listed to shut. Its truncated southern stub was to be retained to serve much reduced traffic from British Salt and Hay's Chemicals, until that too could presumably be closed forever.
That notice from British Rail was a false alarm, however, and the line is happily still used for freight flows accessing the West Coast Main Line via Sandbach and Crewe, and as a useful diversionary route for Virgin Trains services between London Euston and Chester when engineering works are taking place on the direct line from Crewe.
Given all that, on the face of it this ought to be one of the more simple rail reopenings. With all necessary rail infrastructure still extant and the line already cleared for 40mph freight running, all that's required is surely the straightforward task of building a new station next to operational track - as Network Rail is currently doing at both Cambridge North and Ilkeston.
Notwithstanding the physical ease of the project, Network Rail's consistent policy has been that a solid business case is needed before the building of a new station at Middlewich can seriously be considered. And for NR's eight-stage Governance for Railway Investment Projects (GRIP) process to begin, a scheme promoter with deep pockets would be needed from local government - in this case, Cheshire East Council.
In order to tick these boxes, the Railway Consultancy was duly commissioned to publish a feasibility study in July 2009 by the Middlewich Rail Link Campaign - a small but hardy band of passenger service restoration advocates first formed in 1992.
The study concluded that a latent demand existed for rail travel of between 500 and 600 passengers a day, and that given a cost of less than £1 million to build a single-platform station and complete minor infrastructure upgrades, there existed an impressive benefit:cost ratio of 5:1.
The case for reopening was not without its pitfalls, however, not least a chronic lack of spare stock available to then-operator Northern Rail. The council also faced more pressing funding priorities, amid a worsening global recession and savage public spending cuts enforced by the Coalition Government.
Predicted revenue from the line of £700,000 per annum would have left local council taxpayers with a hefty bill to meet running costs of anything up to £2.1m per year to begin with, making the scheme politically unattractive.
However, local authority support was eventually forthcoming. Six years later, and with a much improved fiscal outlook, East Cheshire Council allocated land for a new station in its Local Plan in August 2015.
With a new housing development now encroaching onto the former station site's footprint, a new station would need to be located on the opposite side of Holmes Chapel Road bridge, just east of the town centre and using an existing car park.
Congleton MP Fiona Bruce was also persuaded to throw her weight behind the campaign, and in April 2013 she presented a petition with around 2,000 signatures to Parliament.
Sensing that the prevailing winds were now turning in its favour, the campaign group has opted to make two significant strides forward in the past 12 months, as its calls for the Middlewich reopening approach a critical new phase.
In November 2015 its name was shrewdly changed to the Mid Cheshire Rail Link, as part of a deliberate change of tack to widen its geographical scope. And in August this year a 40-page updated business case and consultancy report was published, to shore up the group's already compelling arguments.
"This campaign has been running for some time, but was always just focused on Middlewich until about 18 months ago when we started to shift gear completely," says Mid Cheshire Rail Link Campaign Secretary and Middlewich Town Councillor Samantha Moss.
"We recognised that it wasn't just about Middlewich but the whole of mid-Cheshire, and that this was going to be good for a much wider population. The whole emphasis had to change to the line being an underused regional asset if we're to get support from national politicians."
Northwich Town Councillor Andrew Cooper adds: "Where there was an emphasis before on just trying to get Network Rail on board, we shifted to talking directly to the decision-makers like the Local Enterprise Partnership. And by attacking it that way we have been far more successful."
According to the campaigners, restoring passenger services on the Middlewich line would not only reconnect Middlewich and its overly car-reliant residents to the national rail network, it could also play a key part in relieving desperate overcrowding on many services running during the day on the neighbouring Mid Cheshire Line.
With patronage climbing by 167% in the past decade, extra services are needed to supplement the line's two-car or sometimes four-car Class 150, '156' and Pacer units far more urgently than in 2009 (at the time of the original consultancy report), on what is now one of the most heavily over-subscribed lines in the north of England.
Following an order for 281 new carriages at the launch of the new Northern franchise in April, the operator proposes to cascade some surplus DMU stock to the Mid Cheshire Line in order to meet its requirement to double frequency to two trains per hour from December 2017.
With no spare paths available into Manchester Piccadilly, these extra services are likely to start at Stockport, running as far as Greenbank before turning back. The MCRL campaign asserts that these trains could be routed to turnaround at Middlewich instead, before returning to Stockport.
A second option would be to divert the extra peak-time services that already run on the Mid Cheshire Line as far as Northwich and then via Middlewich and on to Crewe, instead of terminating at Chester.
This would provide an additional benefit to users of the Mid Cheshire Line, by offering a quicker and more direct way to reach Crewe and destinations in the Midlands and the South than the current arrangement of travelling via Stockport or Chester. Northwich to Crewe would take less than 30 minutes via Middlewich, rather than the hour's minimum journey time passengers must currently endure.
"In December 2017 we get the extra service because the big problem is overcrowding," says Knutsford Town Mayor Tony Dean.
"Knutsford has 500,000 rail customers a year, with one service travelling in each direction an hour and just a handful of peak-time extras. People are getting left on the station every morning, and we have the only station in Great Britain with so many passengers yet such a poor service.
"The half-hourly service is very important, and behind that importance is the Mid Cheshire Rail Link and what it means for so many towns and villages."
In addition to the possibility of re-routing these extra services, a key element of the updated business case is the burgeoning population and economic growth recorded in the last seven years at Northwich (at the northern end of the line), plus the emergent need for a new station on the Middlewich line situated on the town's outskirts at Gadbrook Business Park.
The updated report suggests that to reduce the reopening costs (now revised at £5m), Gadbrook Park station could be privately funded as part of the development cost of a planned extension that would almost double the size of the site, giving it the potential to employ 9,000 people.
"Gadbrook Park has more than 5,000 employees and has turned into Cheshire West's worst traffic nightmare," says Northwich councillor Cooper.
"People queue for hours in their cars to get out onto the A556, and a new station would help relieve this pressure. Most people don't even know there's a railway running right next to it, and it would be a great pity for the economy if the business park's growth was stifled because this does not happen.
"Northwich itself is also growing hugely to well above 20,000 people, and it's a town whose time has now come. £80m has just been invested in Baron's Quay shopping and leisure development in the town centre, and the population is on the rise. Annual passenger numbers climbed by 10,000 last year to 240,000, and that's got to have dramatically changed the business case for services to Middlewich as we continue to attract investment and new jobs to this area."
Moss agrees: "An awful lot has changed in seven years. The level of housing growth and the local business support means all local councillors are now lined up in the same direction."
Current housing commitments in the region would indeed suggest a rapidly expanding customer base for any new service to Middlewich, increasing the likelihood of it reaching zero subsidy. Current projections are that the population of Sandbach will increase by 6,297, Knutsford by 2,175, and Middlewich by 4,465 if all currently permitted or pending new housing developments are built.
Further strengthening the Mid Cheshire Rail Link's updated business case is the recent and rapid development of two other rail projects that have national and regional importance.
Phase 2a of High Speed 2 is expected to terminate at an integrated high-speed station at Crewe from 2027, while work continues to open Phase 2b six years later - this will gently curve northeast towards Manchester Airport and then Manchester Piccadilly.
Were passenger services to resume through Middlewich it would give residents of Northwich, Knutsford, Altrincham and other parts of Mid Cheshire much improved connectivity and lower journey times to reach HS2 services. It could also aid the delivery of the 120,000 new jobs and 100,000 new homes that the Northern Gateway Partnership of local authorities aims to deliver in Cheshire and Staffordshire by 2040 on the back of the arrival of HS2 (see pages 60-63).
John Oates, chairman of the Mid Cheshire Rail Users Association, says the construction of HS2 is a key factor in dictating the delivery schedule for returning the Northwich-Sandbach line to passenger use.
"Middlewich station needs to be here before HS2 to Crewe opens in 2027," he says. "Without the Mid Cheshire Rail Link, getting by rail from Northwich and Knutsford to Crewe takes well over an hour. Otherwise the nearest HS2 station will be Manchester Piccadilly, requiring passengers to travel a long way north to go south.
"The rail link will provide a vital feeder route from north and mid-Cheshire to the HS2 station at Crewe, and would be an easy-to-implement element of Northern Powerhouse Rail when everyone is busy talking about the potential for HS3."
Manchester Airport is also equally difficult to access by rail from mid-Cheshire. Despite being only 12 miles northwest from Knutsford, its railway station is at the end of a short stub from the Styal Line to the east.
With no other public transport alternatives, this makes the prospect of a Western Link to give the airport a through route all the more intriguing. Manchester is already the UK's third busiest airport, and the Western Link could be included in plans to increase annual passenger numbers from 23 million to 50 million, and to build an £800m Airport City of hotel, office and manufacturing facilities by 2030.
Trains would then be able to turn off the Mid Cheshire Line near Mobberley and run over the new 3½-mile link to Manchester Airport station, offering a journey time 20 minutes faster than the current route via Altrincham and Stockport with no change of train required. This would not only remedy the current public transport vacuum for airport users, it would also open up employment opportunities to residents of mid-Cheshire and provide another possible route for Middlewich line services.
Armed with the updated business case incorporating developments linked to HS2 and fresh opportunities for economic growth, Congleton MP Fiona Bruce has already presented the reinforced arguments for reopening Middlewich station to Rail Minister Paul Maynard, in order to raise Parliamentary support.
The document's conclusions appear to have been well received by Maynard, who was himself born in Crewe and went to school in nearby Winsford. He agreed that connectivity was equally important between towns as between cities, to maximise the effectiveness of the Government's Northern Powerhouse agenda, and looked forward to working closely with Bruce to expedite plans with the Department for Transport.
With the 150th anniversary of the building of the line falling next year, is this the perfect time for the long campaign to give Middlewich its station back to finally reach fruition?