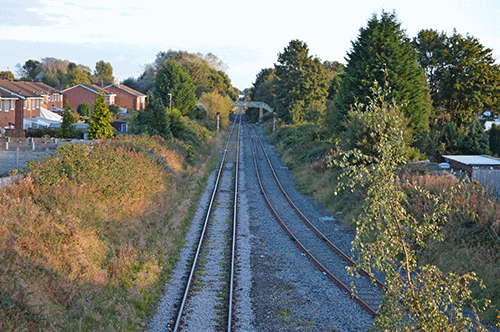 On first impressions, Middlewich in Cheshire does not appear to be a particularly significant place.
Overshadowed by the historical Romanesque splendour of its county town of Chester 20 miles due west, it also lies on the doorstep of Alderley Edge, Knutsford and Cheshire's Golden Triangle - home to affluent communities of famous footballing residents and ostentatious displays of wealth.
Middlewich's principal historical significance comes from the salt that has been mined there for 2,000 years, and in the related group of nearby settlements that share the same ancient suffix - Nantwich, Leftwich and Northwich.
Firmly in the present day, and there is an open wound running through this quant market town of approximately 14,000 residents, into which salt of the more proverbial kind is being rubbed.
That's because there is a railway here but no longer a station, and an almost daily flow of rail traffic that is predominantly freight and so carries no passengers.
But it hasn't always been this way. Opened in July 1878, Middlewich station was the sole stop on the 8½-mile line built a year earlier by the London and North Western Railway, to connect Sandbach and Crewe to the south with Northwich and the Mid Cheshire Line (which runs from Manchester to Chester) to the north.
It was built as a single-track railway with provision to be doubled at a later date. But traffic volumes would never justify this along its entire length, and just a single passing loop was put in at the line's midway point at Middlewich.
Primarily intended to serve the area's lucrative salt trade, passenger volumes were never particularly high. Services had dwindled to just four weekday trains in each direction by the time British Railways closed Middlewich station to passengers in a pre-Beeching round of efficiencies in January 1960. The station was finally closed to goods trains in November 1967.
Throughout the 1970s and 1980s, against a constant threat of closure, the line clung on in a freight-only capacity, until RAIL published a short article in April 1992 (RAIL 172) announcing that the northern half of the line from Middlewich to Northwich Junction had indeed been listed to shut. Its truncated southern stub was to be retained to serve much reduced traffic from British Salt and Hay's Chemicals, until that too could presumably be closed forever.
That notice from British Rail was a false alarm, however, and the line is happily still used for freight flows accessing the West Coast Main Line via Sandbach and Crewe, and as a useful diversionary route for Virgin Trains services between London Euston and Chester when engineering works are taking place on the direct line from Crewe.
Given all that, on the face of it this ought to be one of the more simple rail reopenings. With all necessary rail infrastructure still extant and the line already cleared for 40mph freight running, all that's required is surely the straightforward task of building a new station next to operational track - as Network Rail is currently doing at both Cambridge North and Ilkeston.
Notwithstanding the physical ease of the project, Network Rail's consistent policy has been that a solid business case is needed before the building of a new station at Middlewich can seriously be considered. And for NR's eight-stage Governance for Railway Investment Projects (GRIP) process to begin, a scheme promoter with deep pockets would be needed from local government - in this case, Cheshire East Council.
In order to tick these boxes, the Railway Consultancy was duly commissioned to publish a feasibility study in July 2009 by the Middlewich Rail Link Campaign - a small but hardy band of passenger service restoration advocates first formed in 1992.