What do you think of the D-train concept? Take part in our poll and leave a comment with your vote. We'll publish the results and comments in the next issue of RAIL, on sale February 4.

The first London Underground D78-Stock train to be withdrawn from service is due to be delivered to Vivarail at Long Marston on January 19.

The move comes as Vivarail Chairman Adrian Shooter firms up his plans for converting the withdrawn Underground stock into diesel-electric multiple units (DEMUs), to be known as D-trains.
Vivarail has signed a contract to buy enough vehicles to build 75 two- or three-car DEMUs, which works out as 156 driving cars and 70 trailers. Aside from a small number of vehicles being kept by LU for conversion into engineering trains, this is the vast majority of the available vehicles. The trains run on the District Line.
Shooter, the former chairman of Chiltern Railways, told RAIL that LU put the trains out to public tender, and his company "bid a price which is quite a lot higher than scrap value".
Once the first train arrives, work will begin immediately on converting it into a three-car prototype that is then scheduled to run on the site's 1.8-mile (3km) test track in the summer. The intention is that it will then be approved for running on Network Rail track in the autumn.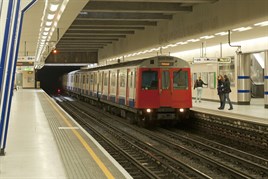 "We are talking to several potential customers including TOCs in the UK. We are also talking to all the bidders for the Northern franchise. In addition, we are exploring an overseas opportunity," said Shooter.
He told RAIL that Vivarail will sell or lease the trains, with or without maintenance contracts, and that he expects to sell the first train at the end of next year.
The company has contracts in place with Revolve (Brentwood, Essex), which is supplying the diesel power modules, and with Strukton (Holland), which is supplying the IGBT - insulated-gate bipolar transistor, control equipment that controls the traction motors in both traction and braking.
Shooter said Vivarail has "identified a large number of non-electrified routes where there are either frequent stations or many speed restrictions".
And he countered the question that D-trains will be slower than other DMUs: "The power-to-weight ratio means that our trains have superior acceleration to those classes. We have had a performance simulation done for the Huddersfield-Sheffield route, which we selected because it has a selection of steep gradients, closely spaced stations and some higher-speed sections at the Sheffield end.
"The end-to-end timing of our trains is about three minutes less than those of other trains. That is before taking account of the fact that platform dwell times are likely to be less, because we can have up to four doors per side."
Only the bare bodyshell, traction motors and bogies from the D78-Stock will be re-used - the bodyshells are aluminium and free of corrosion, and the bogies are ten years old.
"These are, effectively, new trains made affordable by re-using long-life components like the body and bogies, and incorporating the most modern technology to benefit passengers," said Shooter.
"We are creating a train that is, in all important respects, as good as new. We most certainly intend to produce a train which is perceived by passengers to be just like a new train.
"With my team, I have some 'form' in this respect. Look at the Chiltern Mk 3s, for example. The same people are involved."
For more on this story, see RAIL 766 on sale January 21.
D-Stock specifications - the train that will become the D-train.
What do you think of the D-train concept? Take part in our poll and leave a comment with your vote. We'll publish the results and comments in the next issue of RAIL, on sale February 4.