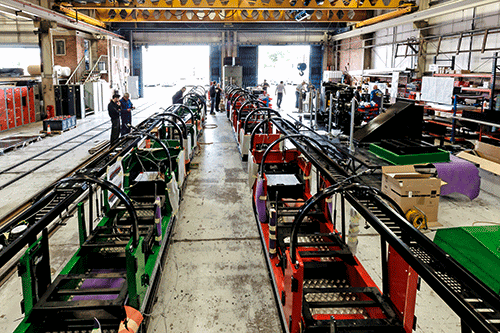 The two bespoke trains being built for the Postal Museum's Mail Rail project were lowered into the tunnels at Mount Pleasant on October 24, following their arrival from manufacturer Severn Lamb.
One train is already complete, with final work on the other scheduled to be completed on-site in the original engineering depot, to ensure that the project stays on schedule.
The bespoke trains will be used to give passenger rides through the Mail Rail tunnels once the new Postal Museum opens next year. Once complete, the new site will combine a museum of postal and communications history with an exhibition and ride through the adjacent underground Mail Rail site.
While the trains follow the design of the originals (which were used to transport post through the tunnels before the railway's closure in 2003, after 76 years in operation), some tweaks have been made to allow passengers to be conveyed (rather than post). For example, a lowered floor makes for a more comfortable ride through the seven-foot-high tunnels.
Museum spokesman Harry Huskisson told RAIL that both parts of the museum are expected to open in the spring, but no firm date has been set as there is still a lot of work to do on the site. However, he confirmed that the project is on schedule.
"As with all big building projects, unforeseen changes or complications can arise that will knock on to the schedule. Once we get the majority of building works out of the way we should be able to look at the schedule with much more certainty and clarity," he said.
The original budget for the total project was £25 million, but this has increased to £26m owing mainly to the rise in inflation since the costs were set.
Huskisson said that it wasn't really possible to split the costs between the Postal Museum and Mail Rail elements because the two portions have been completed together.
He added: "Roughly speaking, the split is £14.5m for the Postal Museum and £11.5m for Mail Rail."
You can read more about the plans to reopen Mail Rail to the public in RAIL 795 (March 2016).