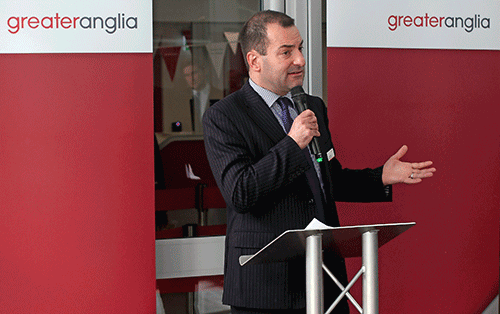 Greater Anglia and Network Rail's offices sit high above the Westfield shopping centre at Stratford. From there, managers can see a massive change in the landscape - where once there was only railway land, today there are flats and shops built as part of the regeneration brought not only by the 2012 London Olympics, but also by the railway.
For GA Managing Director Jamie Burles, that landscape will be further transformed in the next few years of his control.
August 10 was a landmark day for the region, maybe even for the rail industry. The Government awarded Abellio a nine-year concession to operate the Greater Anglia franchise that it had been running since February 2012 (albeit via two Direct Awards).
The undoubted headline was the entire fleet replacement. This is the largest ever fleet replacement on one franchise - everything will be replaced, and the number of vehicles will be increased.
Currently GA operates 937 vehicles (to increase to 1,009 next summer via a small cascade of trains), dating from 1975 to 2011. From 2019, that number will increase to 1,037. But by the time the next GA franchise begins, the oldest train will be just six years old - at the start of this franchise, the oldest vehicle was 41 years old (not including the 50-year old Class 37s hired from Direct Rail Services).
Burles joined what was Abellio Greater Anglia in mid-2014. Previously Bid Director for Abellio Group, he replaced Ruud Haket, who had led the first Direct Award (DA).
Burles was bullish from the start about what the region wanted… and needed. He was delighted that the DA at the time included merely a refresh for the ageing Mk 3s rather than a full refurbishment, as that (he said at the time) suggested new trains could be on the way.
The new franchise had been due to be announced in June, with the start in October. But then the Brexit referendum was set for June 23, and that changed the timetable (although this was a question Government regularly deflected when asked).
Local campaigners wanted (nay, demanded) big improvements, and the Great Eastern Main Line Taskforce became ever more influential after it was set up by then-Chancellor of the Exchequer George Osborne. Influential businesses and stakeholders, led by New Anglia Local Enterprise Chairman Mark Pendlington, were vocal in their calls for improvements, and in 2014 they produced a study stating that £476 million of infrastructure improvements (combined with new trains) could transform the region. For every £1 spent £9 could be raised, the report stated.
Everything was set for the June announcement. There had been calls for new trains, and for WiFi-enabled brand new stock to serve coastal branches and branch lines around the region. But that announcement was delayed until August, owing to Brexit and the subsequent Cabinet changes. That left the winner with a little over two months to mobilise the new franchise.
Looking back, Burles smiles at that period. "The delay? Yes, there was great uncertainty with even letting the franchise. We know there was extreme turbulence in the corridors of power. It wound its way to a conclusion, but it meant mobilisation was two months instead of three. It meant we were extraordinarily busy in getting it sorted."
He says that "apart from stress and grey hairs, we managed to cope". And the new franchise started, as planned, on October 16.
Burles is also keen to point out that it was Anglia's turn for new trains. All around the country new trains were on order or were planned, and yet AGA, despite delivering a large subsidy to Government and serving an area that was one of only two to contribute positively to the UK's GDP, was making do with cast-offs. Since 2003, 21 four-car Class 360s and 30 four-car Class 379s were the sum total of two franchises and two Direct Awards.
So how did the region manage to convince the DfT to buy into Anglia's vision?
"There were a number of things coming together," explains Burles, who particularly acknowledges the concerns of various areas within the overall region. Authorities that previously had only 'batted for themselves' joined forces for the ultimate aim - to improve the entire region rather than an individual county.
"There used to be disagreements for individual regions. The start of the process was corralling the key stakeholders for objectives."
The big news, of course, are the new fleets. What were Burles' priorities for the franchise?
"Rolling stock was one, two and three. The GEML Taskforce helped. They agitated. They influenced and helped us in making our voice heard in the corridors of power, particularly in the DfT."
Burles pinpoints the former Chancellor's arrival in Norwich, to launch the Taskforce, as a key turning point: "Osborne arriving in Norwich gave more political backing."
Nevertheless, this was a three-way battle for the franchise that Abellio had to win. FirstGroup and National Express were also in the mix, and both had suffered in recent times through losing franchises.
NX had been the previous incumbent until February 2012, and according to several RAIL sources there was staff uneasiness at the thought of NX returning. Meanwhile, First had operated the former First Great Eastern franchise until 2004 (when it was merged with the Anglia Railways franchise), as well as parts of West Anglia Great Northern to form the 'one' franchise that NX operated from April 2004 until February 2012.
Abellio had initially gone into the bidding process in a joint venture with Stagecoach. However, the latter pulled out, and industry rumours suggested Abellio would not win the deal. But Burles remained undeterred: "I still maintain we knew we would probably push quality further than other bidders."
Experience, it seemed, was the key: "There have been years of operating the oldest trains, and having a good relationship with stakeholders."
He says that relationship with stakeholders was massively important for Abellio. "Stakeholders want to improve, and we had to go 100% ambitious. But there was a lot of teeth gnashing - had we gone too far? "We even went above the ITT specification."
He highlights the Ipswich to Peterborough route: "We thought that was vital for the region. But I didn't think we could buy everything."
He was proved wrong, thankfully for those travelling in the region. But how did it happen?
"There was a feeling that East Anglia had to be right. I believe Peter Wilkinson wanted greater quality, and it made sense. I think he believes in the customer service - that's what I mean by quality on the very basic (and the 'hygiene') elements of the franchise.
"There will be clean, reliable trains and stations. They will be operated by friendly employees. Peter has been working hard to try and influence in making the case for greater investment in rail. To rely on the private sector to pay back that faith."
Even so, Abellio will pay for that privilege - and pay well. Over the nine years of the franchise, it must pay a £3.7 billion premium. As per other recent deals, this is back-loaded, meaning that the largest payments are towards the end of the franchise.
"It used to be that we paid fairly eye-watering premiums but got next-to-no investment. We now have a mammoth investment and must pay back a significant premium," says Burles.
Acknowledging that the payment is huge, he counters: "At least we are getting payback. It is contracted, and there have been people validating it over and over and over again. The largest initiative is the new trains. Growth predictions are in line with expectations."
How will that growth be met? The Taskforce certainly believes there is potential in the region, citing the development of cities such as Norwich, Cambridge, Colchester and Chelmsford as examples of business believing in the area. Capacity-wise, the new deal will deliver a 55% increase in the number of Standard Class seats into London in the morning peak, while an additional 1,144 trains will run every weekday.
"The substantial uplifts in quality - we have played by the book. We have looked at the imperial evidence - journey time, frequency changes and rolling stock. The premium is a hell of a lot, but the initiatives are also transformational. You transform the service."
Burles believes that the "huge capacity improvements" will unlock the constrained demands through the region. He adds that the new trains and their increased capacity will match the anticipated large amounts of demand that will grow over the coming years, on the back of what he describes as "explosive population growth".
"Think of the growth on the West through Stansted, Silicon Fen - it's fantastic for us," he says.
When he talks of the "explosive growth", Burles discusses the trend of people moving from London to locations such as Colchester.
"That is a very healthy additional growth factor for the region," he says, explaining that the only way to unlock the revenue is additional capacity with a quicker and reliable service.
And that is where the Accord with Network Rail comes into force. This was announced at the franchise launch on October 17 (RAIL 812), and involves NR and GA working together to get everything in place ready for the huge changes. Improvements to the overhead line equipment, platform lengthening, new sidings and new depots are all required, as is maintaining a creaking railway that was electrified to Norwich almost 30 years ago, and which is already having to cope with massive growth. There are concerns regarding the reliability of the infrastructure - indeed, on launch day there were delays due to signalling defects (a common occurrence for those travelling on the Great Eastern Main Line).
"60% of delay is Network Rail," says Burles. "There are also delays from fatalities and so on - we know that things are not always their direct responsibility."
Burles says the reliability of GA's trains will "go through the roof", and says of NR that there has to be the same transformational approach.
"It has to go hand in hand to drive that step change. Yes, the Accord will come in. And there are a number of elements to take forward: enabling the new trains, Manningtree depot, Romford sidings, Cambridge sidings, the connections to the depot and sidings, platform upgrades and lengthening power upgrades. There is a body of work in a short space of time. We are trying to go one step forward."
He explains that work is already under way: "We are bringing someone from Network Rail and creating a joint team. This needs to be a talented team. It must be accommodating and collaborative - let's bring in the right people. These people have contacts in NR and get things done quickly. That's the start of that delivery and a joint team. You will never see us - Richard Schofield and I - interested in blaming each other."
Burles admits that "there are a number of things that are very challenging", adding: "There's been very good joint working with Network Rail - the power upgrade modelling we did in the franchise bid, that was the level we went to. And now a joint team is locked in a dark room comparing plans."
While campaigners want £476m of improvements - as well as the need for Ely North Junction to be remodelled to allow not only GA but also CrossCountry, East Midlands Trains, Govia Thameslink Railway and freight operators to improve their timetables and operations - these do not form part of the planned NR Anglian upgrades. This means that all the current planned improvements are based on existing infrastructure. Of course Burles would like more, but the bid was not (and could not) be built using 'what ifs'.
"All we can do is assume what's available. You cannot assume investment that is not funded or hasn't happened," he says.
"Improvements we will achieve through journey times and frequencies will be done using what's available now ." He adds that the performance capability of the new trains and the recast timetable in 2019 will help to achieve that.
As Schofield had also suggested previously, Burles doesn't rule out external funding for projects.
"Potentially getting the desired improvements could be third-party funded," he says of the called-for infrastructure improvements. "Being optimistic, you'd hope in Autumn Statements that money could be found. In the absence of that, then there is the process of finding funding. And we want to be in the process.
"We have landed the right deal for the rail franchise. We need the same for the rail infrastructure. We want to do what we did with the franchise bid but for Network Rail, and do that working with NR. We want to drive this in the corridors of power."
He adds that there could be alternative financing vehicles to deliver this, explaining that these are the key enablers through driving stronger economies, or taxes.
But could there be unforeseen problems?
"At any moment in time you've possible headwinds and tailwinds. Brexit, for example. The only consistency is we don't know. A 600-page document can be summed up by 'we don't know'.
"Looking at plus of houses and prosperity, and looking at the centres of population, we have a degree of optimism of the short and medium-term. We're not economic forecasters.
"This is part of a progressive approach. The bid proposals and the DfT was willing to take risks. While you cannot know what the future holds, you need to get the right government approach."
The Government has invested in Anglia, and the railway will be transformed.
The region asked for improvements - it now needs to deliver.