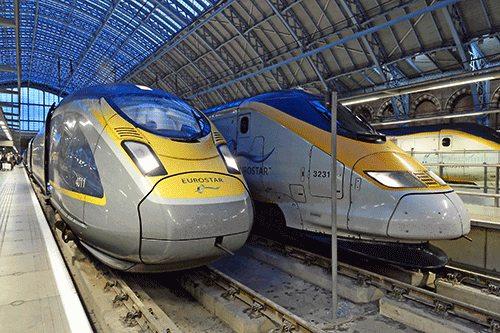 Eurostar has had a tough year. While passenger numbers were boosted through the summer, thanks to the European Championship football tournament held in France, there was uncertainty caused by the Brexit referendum on June 23, and the UK's subsequent decision to leave the European Union.
Before that there were the terrorist attacks on Paris in November 2015, and Brussels in March. These events caused a drop in international traffic, as passengers from America and Japan decided against travelling to Europe, with the United States advising its citizens not to travel to the French capital. Eurostar's profits are down, and two of the consequences are a round of redundancies and an 8% reduction in services.
It's a rather gloomy picture, so the introduction of the new e320 Velaro trains couldn't have come at a better time.
Back in the early 1990s, Eurostar had to operate on Southern Region infrastructure. High Speed 1 wasn't due to even begin opening until 2003, so this new service would require trains suitable for cross-Channel journeys, but built in accordance with the UK's smaller loading gauge, including the long, narrow, winding Penge Tunnel. There were no off-the-shelf solutions - something new was needed. And so the '373' was born.
But things have changed. HS1 is open fully to London, and UK gauge restraints are no longer a factor. And this opened the door to the use of European designs. The ICE3 family of trains, in use in Spain, China and Russia, was an obvious candidate.
The cross-Channel operator ordered ten Velaros in October 2010 (RAIL 655). They are the first passenger trains to operate in the UK built to European gauge, and offer a significant capacity increase on the trains that they are, largely, replacing.
Launched at St Pancras International in November 2014 (RAIL 762), the first trains entered traffic one year later, a month earlier than planned.
The Class 374s, to use their UK designation, are built by Siemens in Krefeld, Germany. Following testing in Wildenrath, they are tested on the French and UK high speed lines. They have been as far as Belgium, but have yet to run to Brussels.
Each train consists of 16 vehicles, comprising three business class/standard premier vehicles at each end, and ten Standard Class vehicles in between; cars 8 and 9 offer buffet facilities. At 25 metres, the cars carry more passengers than the '373s' - which should make up for some of that 8% reduction in services.
Capable of 250mph, they are limited to running at 200mph. Eurostar investigated the market, and selected the Velaros as being the best-fit option. Eurostar tells RAIL: "The Velaro was the best fit with our specification and aspirations. From a technical point of view, the Velaro was the most established product platform."
The design is a development from the ICE3 design used across Europe, but whereas that train is built by both Siemens and Bombardier, the '374' is purely a Siemens product, with the manufacturer using the parts to which it held the rights, and redeveloping the other components.
Originally, 20 half-sets were ordered. These comprised eight vehicles, and were formed into ten 16-car trains. At the November 2014 launch, it was confirmed that a follow-on order for 14 half-sets had been made, forming a further seven trains. The first of these (374021/022) is already in traffic.
What was the rationale for the new trains? Surely, the Class 373s are relatively new, in terms of train fleets, especially when you consider that some High Speed Trains operating in Britain today are twice their age? "
"Those 20 years have been quite hard on them," says a Eurostar spokesman. "For most of that time they've been operating at high speed. And we want to reduce maintenance costs, increase efficiency and and improve capacity.
"The reliability of the '373s' is good, but it's not going to get any better. We knew that they would only be viable for so long. So, rather than modifying the old trains with expensive equipment updates to make them compatible with new signalling systems, there was a general consensus that if possible, we should look at whether we could justify new trains. After analysis, we concluded that we could."