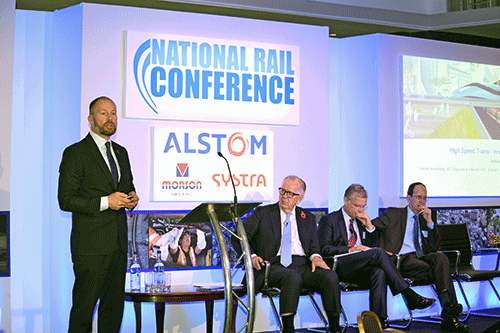 Alstom UK's HS2 Director Henrik Anderberg is quite upbeat about the prospect of building a new railway in the UK: "High Speed 2 is a good thing," he told delegates at the National Rail Conference (organised by RAIL and held at the Midland Hotel in Manchester) on November 1.
Alstom recently won a major contract in the United States, where it is supplying new trains for Amtrak, and where there's a growing awareness of the prosperity high-speed rail can bring; Alstom is in a buoyant mood.
Elsewhere, countries in North Africa are beginning to wake up to the benefits of high-speed rail, and Alstom is involved in those developments. The company is building trains for the Tangier to Kenitra HS line in Morocco due to open in 2018. It will be the first long-distance line on the continent, and the first part of what will eventually become a vast intercontinental network, linking with Russia and China. Alstom's knowhow will be vital for projects of such magnitude.
Closer to home, Anderberg upholds the success of France's high-speed rail developments as something that could be achieved here.
He says at the NRC: "Travel times really do matter.
"HS2 needs to compete with the airlines, particularly when it comes to journeys of three hours or less, which 70-80% of people will choose to travel by train."
This is a crucial point in the argument for high-speed rail, says Anderberg. The current minimum journey time from London to Glasgow is four and a half hours, and while this is planned to be cut by half an hour, Anderberg, says it's not good enough. "It needs to be three hours," he says.
"By driving down journey times, the railway becomes more competitive. In Italy, private companies have started running trains. The competition has driven down fares and increased rail travel's market share," he explains.
Alstom believes that 900 kilometers (559 miles) is the maximum distance at which rail can compete with air travel.
Anderberg goes on: "France's Alstom/SNCF is the first high-speed line. It opened in 1981 and 'shrank the country' considerably.
"France benefitted immensely, and we hope we can repeat that in the UK."
In France, Anderberg says, Lyon grew considerably as a city, and that was all down to the high-speed railway. It had such an impact that a second two-track line is being planned between Lyon and Paris. This is an example of the long-term socio-economic benefits and regional developments which occur as a result, he says.
Anderberg also claims that projects such as this can help catalyse a country's economy. High-speed rail lines typically demand innovation and result in a highly skilled workforce.
And they attract massive investment. All these benefits, says Anderberg, underline the importance of investing in infrastructure.
What Alstom offers, he says, is a formidable package of innovation and experience. The company has more than 40 years of designing and building high-speed products in 20 countries. It works with 21 operators and its first products entered service 35 years ago. Since then, 3.5 billion people have travelled for 5.6bn kilometres on Alstom products.
Alstom has been maintaining high-speed lines and trains for more than 20 years and has contracts that go back 30 years.
In terms of research and development, Alstom has carried out more than 2,000 kilometres of test runs above 400kph (249mph). In April 2007, an Alstom train broke the speed record of the time with a 574.8kph (357mph) run.
Alstom believes that for HS2, a range of trains is needed. Its new Avelia range features the Euroduplex articulated double-deck trains, which use concentrated traction. Then there are the Liberty, AGV and Pendolino models. The former is concentrated traction too, while the others are distributed. Only the Pendolino is non-articulated, while the Liberty and Pendolinos offer tilt.
The Pendolino, Alstom says, can run at up to 250kph, and it's the first train in the market offering high speed and tilting technology. Alstom claims it can offer speeds gains of up to 35%.
Alstom's AGV offers increased capacity but in a single-deck platform, and is conceived for international operation.
A set is 70 tons lighter than its main competitors, and brings energy savings of 10-30% versus non-articulated alternatives. It also reduces maintenance costs by 10-15%, meaning lower expenditure across the lifecycle of the train.
The Euroduplex offers between 20% and 40% higher capacity, along with lower energy and maintenance costs. Alstom says it's the best option for a TOC that wishes to offer more affordable travel.
"We believe that a range of trains is needed for HS2," says Anderberg."
All of Alstom's trains can be configured for different routes and in cross-border platforms. He explains: "We work in all gauges and standards, and we can offer non-tilt options."
Is Anderberg hinting that one solution to boosting capacity is double-deck trains? On the national network it would surely be an expensive option because of the need for infrastructure changes and the limitations of the UK loading gauge. But HS2 won't have those issues, as it is being constructed to UIC gauge.
Anderberg jokes: "Everyone loves double-decker buses, and everyone wants to sit on the top deck! But we do have that option with HS2 - who knows what HS2 will look like?"
With Alstom's vast experience and technical expertise, it's quite likely that Alstom already has a pretty good idea.