Historian and presenter TIM DUNN takes us behind the scenes of his latest railway series for the Yesterday channel.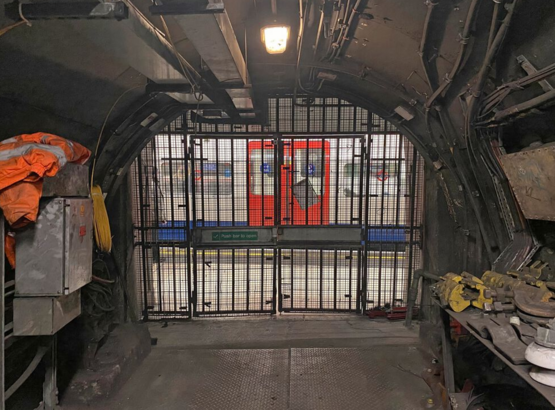 You and I probably know more about the railways than the average person on the street. We know where to stand on the platform so that train doors open directly in front of us. We know all the shortcut tricks. And we probably know a thing or two about the history of the railways.
But one of the enjoyable things of working around the railway is that no matter how well I think I know something or somewhere, there are always days when my socks are blown clean off.
And that is what has happened over the past few months, while making a TV series that I never thought I would get a chance to help make: Secrets of the London Underground.
Working with UKTV, Brown Bob Productions, the London Transport Museum and Transport for London, we managed to gain remarkable access to the disused parts of London's Tube network - and here, I'm able to share a bit of the behind-the-scenes experience.
Being honest, it's not easy to make a TV programme that shows railways off in their best light, because what frequently makes great TV (in the eyes of many, and for good reason) are problems and conflict. So, when a TV company approaches a railway organisation, there is bound to be some concern about what the final output is going to look like.
But there are, of course, TV programme-makers who see beyond the easy opportunities to show conflict and false jeopardy. Those, like you and I, who see the railways as fascinating, wondrous systems of integrated, innovative infrastructure and equipment designed over three centuries to deal with the needs and demands of society, industry, commerce and government.
And that is how Secrets of the London Underground has been made - great stories celebrating remarkable places have been told because highly professional people have trusted each other to do the job well.
I was lucky enough to meet the Brown Bob Productions team a couple of years ago. They had previously shown a kind, thoughtful, non-sensational ethos with their Rail Restorations series for Channel 4. And so it was that we made three series (30 episodes! I never expected that) of The Architecture The Railways Built (TATRB) for UKTV's Yesterday channel (RAIL 904).
In making those, we worked with dozens of rail, heritage and tourism organisations - ranging from Network Rail to local tour guides, from train operators to private homeowners. We have been trusted and granted incredible access.
The ratings and critical success of TATRB showed that we'd found a niche. Feedback demonstrated that viewers loved getting this privileged access to unusual places, seeing behind normally locked doors and being shown around by enthusiastic experts.
We did this right from the start of Series 1, by going into the long-closed Down Street London Underground station.
Our knowledgeable guide there was Siddy Holloway, Engagement Manager at the London Transport Museum, and the audience particularly enjoyed that we were showing a place hidden in plain sight beneath our capital city.
While production of Series 2 and 3 of TATRB cranked into action, the Brown Bob team and LTM's Hidden London team kept in touch. After Rob Dersley (one of the Exec Producers of TATRB and now of SOTLU) visited both the LTM's Hidden London exhibition and some disused parts of Angel Tube station, they were all in agreement: this stuff had to be on the telly.
Following discussions with TfL, a series about some very special places was pitched to, developed with, and commissioned by UKTV. It would range from abandoned stations, so secret and long forgotten they're almost mythical, to redundant tunnels, lifts and walkways of major interchanges, right under passengers' noses.
The production team knew that while these places were fascinating, they'd be even better for TV when you add extra layers of context and content.
And since the LTM was so heavily involved from the outset, the stories of these places have been brought alive using its collection at Acton Depot.
The archive footage, photos, posters and diagrams are a fundamental part of the storytelling in SOTLU, and it is a joy to show the collection to such a wide audience. And why not indeed - there are 320,000 objects there, and each has a tale to tell.
The production team was assembled quickly, many of them having worked on TATRB at various times, and I was asked to present it with (excitingly) Siddy Holloway as my co-presenter and guide. I might know a little about the history of the Tube network, but Siddy and the LTM Hidden London team really are the experts.
While all this was happening, the most important aspect was being arranged - access. TfL has more than enough to be getting on with each day without having to chaperone TV crews. It follows that filming access is notoriously difficult to obtain.
But this wasn't any old crew. Siddy and Chris Nix (Assistant Director of Collections and Engagement at the LTM) are highly trained and very experienced with all the locations, thanks to being TfL employees and visiting almost all the sites regularly as part of their Hidden London tour programme.
And because the team had worked with TfL on TATRB, they knew we weren't there to do things by half. This was to be a programme that celebrates, showcases and explains parts of TfL's property like never before.
And what incredible access we were given (and thus passed on via the magic of television to a potentially huge audience), because of the work put in by the production team and TfL staff going above and beyond the call of duty.
There are places that might be familiar, either as a Tube passenger or a Hidden London tour, such as Aldwych, Holborn, Embankment, Euston, Oxford Circus and Moorgate. But we've also taken cameras to tunnels well away from features on the usual public routes.
Then there are the places that few get to see: the long-abandoned York Road, St Mary's, and original Aldgate East stations. The latter two required a long track walk from Whitechapel (after services ended and power was switched off), alongside TfL staff who know every inch of this historic stretch of line. Yet for Siddy and me it was still a thrill, even at 0430.
Two of the many other 'secret' places that we featured could not be more different.
North End station under Hampstead Heath was a half-built station that later became a Cold War bunker. With its airtight seals, the pressure change as trains entered the black, dust-covered station areas caused our ears to pop and doors to flap and bang every time.
It was truly one of the most horrific filming experiences of my career there, contrasting neatly with some of the best of my career - filming in various off-limits storerooms at LTM's Acton Depot. While you see some of our exploration on camera, I also spent many happy hours between shoots with Chris Nix, digging out dozens of wonderful plans, maps and drawings of projects that I never knew existed, and some that never did exist.
Filming during COVID lockdown was not easy - nothing could be done in the normal ways. Masks had to be worn, which makes communication harder. Socially distanced crew and presenters in underground spaces was particularly important, yet especially challenging. The production team even had to consider ways to reduce the number of trips we made.
The smaller the 'secret' space, the trickier it was. But we still managed COVID-safe procedures in places as varied as the World Time Clock cupboard at Piccadilly Circus, an abandoned Cold War bunker, and driving cabs at the Depot.
There were two advantages, however. With fewer passengers on the network, there were opportunities to film public parts of the station without causing impediments to flow, and I always had a seat on my daily Tube journeys to and from locations.
With filming complete at the historic sites and LTM Depot, the editing process went into full swing.
Weeks of editing were combined with script-writing and studious fact-checking. Voiceovers were recorded by both Siddy and me, then final tweaks and 'grading' (essentially, the process of colour-balancing the visuals) were completed. That makes it all sound very simple, but there were teams of people working on these processes to deliver the final product (six hour-long episodes) to UKTV in a very short time.
The series is very different to anything I have ever seen made about the Tube, the museum, and indeed on UKTV's Yesterday channel. It is a work of love, made in difficult times at complex locations, with the unfailing support of dozens of brilliant professional people. I and the rest of the Secrets of the London Underground team really hope that you enjoy it.
■ Note: All non-public area photos taken following formal training and processes, accompanied by TfL staff and from positions of safety.
Read this article in RAIL 934