A guest piece by Sir Peter Hendy CBE, Chairman, Network Rail & Rail Aid Ambassador
In 2007, I visited a Railway Children project in Mumbai, India, and saw for myself the difference it made to vulnerable kids - what they were doing, compared with the way in which those kids had previously lived, reduced me to tears. Ever since, I have been a passionate advocate of Railway Children's work and welcome every opportunity to support the charity.
Railway Children works tirelessly to protect children here in the UK who have run away or who have been forced to leave homes that have become unbearable through poverty, abuse, violence and neglect. They often end up at UK railway stations with no one else to turn to. Railway Children's partnership with British Transport Police has created a safety net for those kids.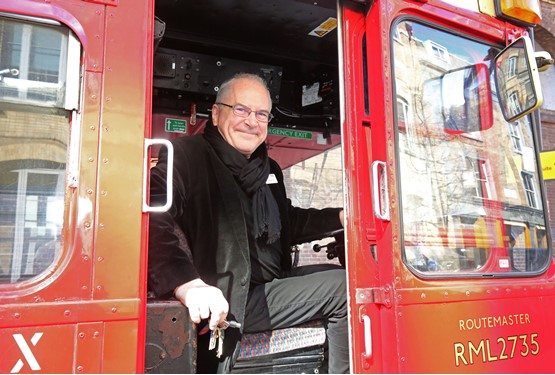 Sir Peter Hendy CBE, Chairman Network Rail & Rail Aid Ambassador
The impact of the COVID-19 outbreak on vulnerable young people means that Railway Children's work is more crucial than ever, but the pandemic has devastated our 2020 fundraising programme with many major events now cancelled.
To plug the gap and continue to raise critical funds, the great and generous railway family is uniting to support Rail Aid, a brand new initiative which is the railway's answer to Children in Need.
Rail Aid incorporates a range of innovative fundraising ideas and culminates in Rail Aid Week, when Railway Children will be broadcasting an online show each evening from November 22-27. Be sure to put Wednesday November 25 in your diary and join me for a rail-themed quiz which I'll be hosting in conjunction with Young Rail Professionals.
Rail Aid Ambassadors video
Another brilliant event is Smooth Operators, for which nine of my most senior colleagues have bravely volunteered. Whoever raises the most money from donations will be filmed getting their legs waxed, and the resulting video will be shown during the Appeal Show broadcast on Friday November 27. (If you can't decide, vote for Andrew Haines, my Chief Executive - just don't tell him I told you to do it!)
There is a fundraising pack available to download from the Rail Aid website to get you started. I know our whole, great, generous, railway family will step up at this time of crisis to ensure that our most vulnerable kids can still access the help they so badly need. Please help, and please be generous!
This article appears in RAIL 918.