Britain lost its record 13-year period without a passenger death in a rail accident on August 12, when ScotRail's 0638 Aberdeen-Glasgow Queen Street derailed on a landslip near Carmont.
Passenger Christopher Stuchbury (62) died, together with the train's driver Brett McCullough (45) and conductor Donald Dinnie (58).
In the immediate aftermath of the accident, Alex Hynes, managing director, Scotland's Railway, said: "Our thoughts are with those who have been affected by this tragic event, particularly the families of those who have lost their lives. The railway in Scotland is often referred to as a family, and it's one that is hurting today."
The accident followed torrential early morning rain that triggered widespread flooding across Scotland's tracks, including south of Carmont. The train was an HST formed of two power cars and four coaches, with only nine passengers and staff on board.
It had turned back at Carmont because its route south was blocked, and was returning north towards Stonehaven. It struck debris from the left-hand cutting side as it rounded a right-hand curve and, around 100 yards later, the train crossed a bridge over the Carron Water (Bridge 325), demolishing the left-hand parapet and piling up just yards beyond after the power car rolled to its left down a bank, tearing its cab off.
A week later, as this issue of RAIL closed for press, Network Rail was planning how to recover the wreckage and repair the line. Spokesman Kevin Groves said it might be a month before the line reopened.
An interim report from the Rail Accident Investigation Branch (RAIB) on August 14 gave more detail: "The leading power car continued over the bridge and then fell from the railway down a wooded embankment, as did the third passenger carriage. The first passenger carriage came to rest on its roof, having rotated to be at right angles to the track. The second passenger carriage also overturned onto its roof and came to rest on the first carriage. The fourth passenger carriage remained upright and attached to the rear power car; it also came to rest on the first carriage. All wheelsets of the rear power car derailed, but it remained upright."
A fire started in the leading power car, partially engulfing one coach, and it was the smoke from this fire that prompted a call to the police at around 0945. Meanwhile, a conductor travelling to duty on the train walked the mile or so back to Carmont signal box to alert the signaller.
These alerts triggered a major response from the emergency services, who faced a difficult situation with the wreckage hard to reach. Scottish Transport Minister Michael Matheson said the next day, after meeting fire, police and ambulance staff, that 18 fire appliances attended. HM Coastguard sent helicopters to the scene.
Matheson added: "I think it would be reasonable to presume, without unduly speculating, that weather had an impact in this particular incident."
Aerial photographs taken after the accident show a small landslip just south of Bridge 325. This is a point that the train had passed at around 0700 on its initial journey south.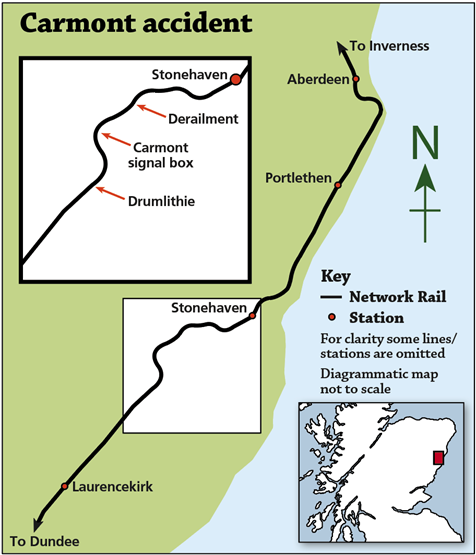 Network Rail spokesman Kevin Groves told RAIL what NR understood was the sequence of events that morning:
0659: The driver of ScotRail's 0639 Montrose-Inverurie alerts Carmont signal box to a landslip between Drumlithie and Carmont.
0700: Carmont signaller calls the 0638 HST's driver to stop his train before the landslip. The train stops three-quarters of a mile south of Carmont and returns 'wrong direction' to Carmont.
0715: Signaller makes arrangements for the 0638 HST to return to Stonehaven. This includes having an NR mobile operations manager drive by road to Carmont to clip 11 Points, to allow the 0638 HST to cross from the southbound to the northbound line (Up to Down).
0934: The 0638 HST crosses 11 Points onto the northbound (Down) line.
0936: The 0638 HST enters the section to Stonehaven (that is, leaves Carmont heading north).
Groves then said there was a call to Police Scotland at 0945, and at the same time a call from Stonehaven signal box to Carmont signal box to say the 0638 HST was on fire. He said NR did not know who made this call or how they knew the train was on fire.
With a distance of 1¼ miles from 11 Points to the derailment, a line speed of 75mph and a falling gradient of 1-in-102, Groves said NR's best estimate was that the derailment took place at around 0940.
The accident follows a general increase in severe weather and failures of cutting and embankment sides across Network Rail's routes.
For full insight, analysis and comment on this story, see RAIL 912 on sale digitally August 19 and in shops on August 26.