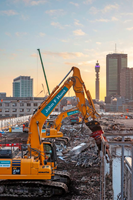 A new leak of the Oakervee Review into High Speed 2 reputedly suggests that costs could rise to up to £106 billion, but that the new railway should still go ahead.
The £106bn is the price of the project put to the review by consultant Michael Byng. It is not an official estimate, which last September was put at between £81bn and £88bn.
Reported in the Financial Times on January 19, a further recommendation is that work on Phase 2b (north of Birmingham) should be paused for six months for an evaluation of whether a mixture of high-speed and conventional railways could meet future demand.
According to the FT, the review says it is hard to quantify what economic benefits HS2 will provide, and that it must be accompanied by investment in local transport. However, it also warns there are no alternative 'shovel ready' projects, and that with billions of pounds already spent it should proceed.
Concerns over the project's management are raised, as is the possibility of seeking private sector involvement in stations. As with the previous leak of the report last year, this one also recommends reducing the planned 18 trains per hour to 14.
Mayor of Greater Manchester Andy Burnham said it would not be acceptable if Phase 2b was delayed or downgraded, adding: "To me, that would be the same old story. London to Birmingham, money is no object, and then all the penny pinching is done in the North of England."
For the FULL story, read RAIL 897, published January 29, and available digitally from January 25.