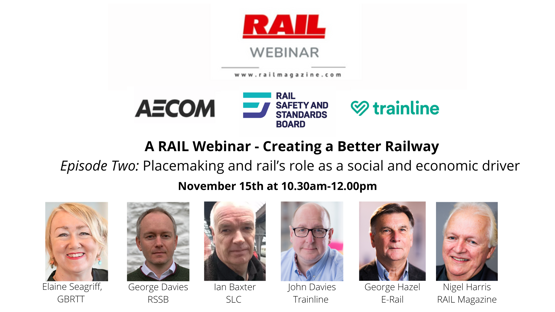 Following RAIL's successful Williams-Shapps Plan for Rail webinar series in 2021, and then the Reimagining and Rebooting our Railway webinar programme earlier this year, RAIL has launched a new three-part series.
With a focus on Great British Railway (GBR) and its mission to create a simpler, better railway for everyone, the webinars are supported by RSSB, Aecom, Trainline, Independent Rail Retailers and Atkins.
In this series, RAIL Managing Editor and Events Director Nigel Harris will be joined by senior members of the GBR Transition Team, representatives from our supporting organisations, and other industry leaders, to discuss and explore some of the main areas of the Government's rail reform package.
The second event of the series will take place on November 15 (1030-1200) and iS titled Placemaking and rail's role as a social and economic driver.
The Government's five strategic objectives for rail, including contributing to long term economic growth and levelling-up, are providing the framework for the long-term strategy for rail. GBRTT will provide an overview of the latest thinking on the high-level strategy, including the role rail has to play in wider economic growth, employment and placemaking.
Speakers for this second episode will include:
Elaine Seagriff, Director of Strategic Planning, GBRTT
George Davies, Director of Sustainable Development, RSSB
Ian Baxter, Strategy Director, SLC
John Davies, Vice-President of Industry Relations, Trainline
George Hazel, Director, E-Rail
Registration to attend the November 15 webinar and future episodes is free.
Episode Three (The future role of the private sector) is due to take place on December 13.
Confirm your attendance here – https://bit.ly/3eKMcdj