This year there were nine submissions for rail employees who had saved someone's life. The judges felt these Life Saver awards should be made to properly recognise these incredible acts of human bravery by members of staff who went above and beyond their everyday duties.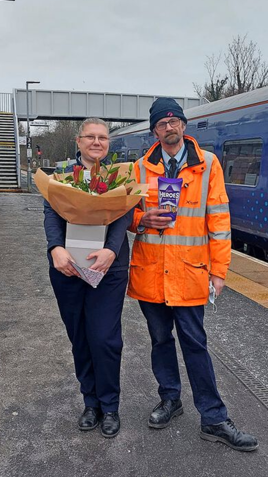 Lorna Bathgate and Charlie Algeo, Ticket Officer and Train Dispatcher, ScotRail
Lorna and Charlie have been praised for their life-saving actions when another rail worker collapsed on the footbridge at Inverkeithing station.
Alerted to the incident by members of the public, Lorna quickly realised that the person wasn't breathing and began to administer chest compressions, while Charlie retrieved the station's Automated External Defibrillator.
While on the phone to emergency services, Lorna began to use the defibrillator to resuscitate the colleague, with assistance from Charlie and members of the public.
Fortunately, the person was breathing again when paramedics arrived, and is now recovering well with no signs of permanent damage.
"What started as a normal day heading into work for one person quickly turned into a horrible nightmare which, thankfully, has had a positive ending," said ScotRail Safety, Engineering and Sustainability Director David Lister.
"The railway is often described as a family. And while they may not have known it at the time, Lorna and Charlie's actions helped to keep that family together.
"They are a credit to ScotRail, and I couldn't be prouder of them."
Lauren McQuillan and Victoria Sweeney, Revenue Protection Officers, Southeastern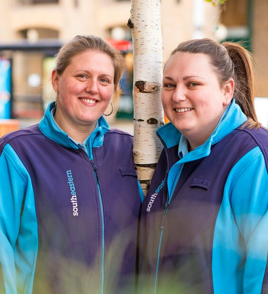 Lauren was called into action when a colleague sent a jumbled text message saying he thought he'd had a stroke.
After calling 999 and then going straight to his house, Lauren drove him straight to the Accident & Emergency department, arriving before the ambulance.
Thanks to her swift response, medics advised that he would hopefully make a recovery.
Victoria supported Lauren throughout the ordeal, sending her money to buy their colleague essential supplies for his stay in hospital.
The pair then continued to support him, helping him to attend medical appointments and providing everyday necessities for many months.
Steve Clements, Southeastern revenue protection manager, said: "If they hadn't got to him when they did, his prognosis may not have been good. They saved his life. Their compassion and support during a colleague's time of need is commendable and is what the railway family is all about."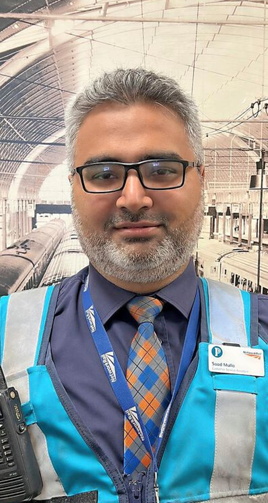 Saad Mulla, Customer Service Assistance, Network Rail
In the run-up to Christmas 2021, London Paddington-based customer service assistant Saad Mulla was on duty at 0200 when he spotted a distressed and unsteady man travelling the wrong way on the escalator on Platform 12.
Clearly intoxicated, the man tried to run up the escalator. Saad switched it off to prevent him from falling and coming to serious harm.
Unfortunately, as Saad led him away to the safety of a nearby bench, the man began using broken glass from a smashed bottle to cut himself.
The man became abusive, but Saad kept talking to him, calmed him down, and called for help.
Network Rail Head of Stations Susan Evans said: "Saad's shift manager on the night said his response was up there with some of the best things he's ever seen people do at stations.
"It must have been a shocking incident to deal with and is not what people expect to face when they come into work. But he reassured the customer, kept them safe, and made sure they came to no serious harm."