Alistair Dormer
Global Chief Executive Officer - Rail,
Hitachi Rail Europe

In recent years, Hitachi Ltd has made significant investments in the UK across many of its businesses. The UK is now the centre for Hitachi's two largest overseas infrastructure projects, in rail and new nuclear power.
Like many other international companies, we invested here because of the UK's strong economic fundamentals, open and transparent procurement processes, and a strong belief that the UK is the 'gateway' to Europe for international companies.
In rail, Hitachi employs around 500 people in the UK, which is increasing at an average rate of more than one new employee every day, including intake at our £82 million manufacturing facility at Newton Aycliffe.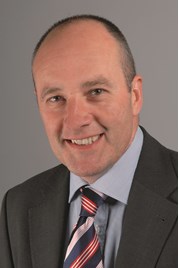 The European market is the biggest rail supply market in the world, and European standards are increasingly becoming the default requirement for emerging economies. Over 60% of Hitachi's UK trains are sourced in UK/Europe, and we are playing an active part in the various trade associations in Europe. Co-operation across Europe in technology standards and projects such as ERTMS is essential for continuing to keep our industry competitive, while EU-funded research such as 'shift to rail' is important for developing future technology initiatives.
We understand that the EU is not perfect, but the UK's departure from the EU would create huge uncertainty for all Hitachi businesses in the UK in terms of economics, trade, skills and talent, and would affect the stability that the company needs for continued investment and long-term growth.
We also believe that it would have a negative impact upon the UK economy, and carry significant risks for the remainder of the EU. The UK plays an important role to counter balance the more protectionist views of some Member States, thereby encouraging competition and driving best value for money.
Therefore, Hitachi believes that a strong and united Europe with the UK, in a single, open market, offers the best conditions for Europe's prosperity and for Hitachi's business.
While the decision whether or not the UK leaves the EU is a decision for the UK public, Hitachi hopes that the Referendum will result in a positive decision to remain in the EU.
We'll be posting more on the EU Referendum in the next couple of days so keep checking back to find out more.