Network

In the three-month period to the end of September 2014 (Q2 2014/15), 81.1% of freight trains arrived within ten minutes of the scheduled time.

New Trains

InnoTrans might have been full of shiny new trains, but not much of what was on show was relevant to the UK, right? Wrong, argues TONY STREETER

Network

London authorities, businesses and residents along the proposed Crossrail 2 route can have their say on plans to protect the route from conflicting development

Fleet

The man behind the launch of Network SouthEast has launched an appeal to return a Southern Region 2HAP unit to its late 1980s external condition

Network

The long campaigned-for East West Rail project looks on course for completion in under ten years' time.

Current Trains

In the final part of his All-Line Rover trip around the UK's railways, PAUL BIGLAND focuses on the North, before a final trip back down to King's Cross

Network

FirstGroup report profits rose by 70% to £33.3 million in the six months to September 30. But revenue falls 10.9%

Network

Report draws on high-speed best practice in Europe to inform UK policy

Network

Chiltern Railways operates charter over branch line it hopes to re-open

Performance

The railway's response to the sea wall collapse at Dawlish was recognised with a special presentation at RAIL's National Rail Awards. RICHARD CLINNICK reports.

Network

NR forecast to overspend by £112m, and fails to make expected progress on projects. ORR concerned about future schemes

Network

GB Railfreight tells Mayor of London consultation that further evaluation of aggregates markets across capital is needed
RAIL attends launch of the first IEP train in Kasado, Japan.
Into the depths of Aldwych, a disused London Underground station, and a look at some other closed Tube stations.
Launched in 2003, the RAIL100 Breakfast Club is a business networking and social club for the industry's senior managers. It helps members keep abreast of current topics within the industry and gives them the ability to discuss these with their peers.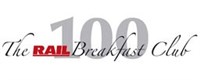 Find out more about this event
---


A relatively wealthy economy, but a massively unbalanced and unjust one has allowed this to happen:
http://t.co/Vx1jt0uRkQ
---