Network

19 Sep

The role of ticket offices on London Overground is to be reviewed, in a move criticised by the RMT union.

Network

19 Sep

Seventeen Class 377s move to Southeastern, with first in traffic.

Network

19 Sep

Class 700s take over all Thameslink duties

Network

18 Sep

First new-look Pendolino in traffic with Virgin Trains

Fleet

15 Sep

First refurbished HSTs enter traffic with ScotRail next May. All 26 in traffic by May 2019.

Fleet

13 Sep

Aventras in peak-time use for TfL Rail as Class 315 withdrawal plan revealed

Fleet

13 Sep

Scotland to benefit from 34,000 additional seats per day from London when HS2 is completed in 2033.

Network

12 Sep

Greater Anglia unveiled a mock-up for its Class 720 Aventra fleet at Derby Litchurch Lane on September 11.

Network

12 Sep

Greater Anglia reveals interior designs for its Aventra trains. Design can still change.

Network

11 Sep

New livery unveiled on first TPE Class 68.

Network

9 Sep

Network Rail's Western Route Managing Director Mark Langman pledges NR's commitment to making the coastal route at Dawlish more resilient.

RAIL Features

9 Sep

As NR commits to Dawlish, RICHARD CLINNICK provides a pictorial report on the repairs carried out at Dawlish in 2014

RAIL Features

9 Sep

The Sea Wall at Dawlish was breached by storms three years ago. NR remains committed, but what are the alternatives?

RAIL Features

9 Sep

With South West rail operations cut off from the rest of the UK, how are operators coping with the essential tasks of maintenance and running local trains

Fleet

9 Sep

The planned HST power car cascade from Great Western Railway to ScotRail

Network

8 Sep

Could more Mk 5s be ordered?
Transport Secretary and Ambassador of Japan see the first of 110 new IEPs come off the production line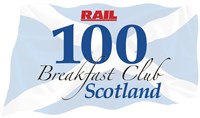 Launched 5 years ago as a result of the success of the RAIL 100 Breakfast Club in London this club brings the same benefits and opportunities to those involved in the Scottish railway industry.

The dinner is on October 26 at the George Hotel, Edinburgh. See below for more details.
Download the membership application form

Find out more about this event
---
---