RAIL Features

29 Nov

Twenty three years ago, on November 19 British Rail announced there would be 5,000 job losses due to the recession.

RAIL Features

28 Nov

Twenty three years ago the lights were turned on at London Waterloo station for the first time

RAIL Features

28 Nov

Seventeen years ago, the first Virgin Train West Coast train design was revealed in RAIL issue 345.

Fleet

27 Nov

Rail Delivery Group's chief executive Paul Plummer highlights how the industry is spending £9.3 billion on new trains by the end of the decade.

Network

27 Nov

The amount of freight lifted on the railways in the second quarter of 2015-2016 was down 18.4%, compared with the corresponding period last year.

Network

27 Nov

Signalling Solutions Ltd and Eversholt Rail Group sign dealt to design and install Alstom's Atlas 200 European Train Control System (ETCS) on a Class 365.

Network

27 Nov

Smart ticketing for travel between England and Scotland is now available on smartphones.

Network

27 Nov

Merseytravel aims to start work on the new station at Maghull North in January 2017, with train services calling there in December 2017.

Network

27 Nov

East West Rail Consortium refreshing economic case for Phase 2 of East West Rail Western Section project to ensure construction starts at earliest opportunity

Network

27 Nov

Much delayed British tram-train pilot scheme granted of the Transport and Works Act Order and arrival of the first Vossloh tram-train from Spain is imminent

Network

27 Nov

Elements of devolution deals worth £2 billion over next 30 years will contribute towards improving local rail in West Midlands and Liverpool city regions.

Network

27 Nov

Carlisle station's roof and eight platforms are to be rebuilt in a £14.7 million scheme.

Network

26 Nov

DfT responds to Dame Colette Bowe's report into CP5 enhancements planning

Network

25 Nov

A Class 700 made its debut on the UK network on November 24, when 12-car 700107 ran from its depot at Three Bridges to Brighton.

Network

25 Nov

Network Rail chairman says some projects may cost more and take longer than originally expected

Network

25 Nov

Passenger Director David Sidebottom of Transport Focus reacts to the Autumn statement/spending review

Network

25 Nov

Osborne confirms HS2 construction in Spending Review.
The North will have better rail quality than the South by January 1 2020, Northern Rail Managing Director Alex Hynes believes.
ORR action follows on-board staff turning off TPWS isolation equipment on a locomotive in October
Launched in 2003, the RAIL100 Breakfast Club is a business networking and social club for the industry's senior managers. It helps members keep abreast of current topics within the industry and gives them the ability to discuss these with their peers. The next meeting is on October 8.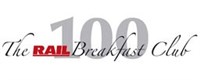 Find out more about this event
---
---