Network

31 Jul

Siemens 700106 delivered to Three Bridges

Network

31 Jul

Bernadette Kelly takes over as DfT's Director General for Rail Executive in September

Network

31 Jul

Outgoing Chiltern Railways boss to join NR as non-executive director

Network

31 Jul

Government opens public consultation for community involvement on Ely-Peterborough line

Fleet

28 Jul

c2c to increase capacity on 17 of its 74 Class 357 Electrostars

Network

27 Jul

Six weeks of ScotRail steam planned, beginning in September

News

27 Jul

Madge Elliot travels on training trip from Tweedbank six weeks before railway re-opens

Fleet

24 Jul

Gatwick Express Electrostar begins testing at Bombardier's Derby factory

Network

22 Jul

Rob Brighhouse to leave operator at end of the year

Network

16 Jul

Capacity boost for Norfolk coastal resort during summer season

Network

8 Jul

Rail Minister warns of "three big challenges" that rail must overcome

Network

8 Jul

Network Rail to carry out improvements

Network

8 Jul

Failures at average of one a day in recent months, according to NR figures

Network

7 Jul

Rail Minister celebrates Women in Engineering day at Farringdon station

Network

7 Jul

Councils approve revised design

Network

7 Jul

First intake of students arrives in October

Network

7 Jul

Transport for London marks tenth anniversary of terrorist attacks
Twenty-nine AT300 trains built by Hitachi in Japan will enter traffic in the UK from May 2018.
We're recruiting for an Assistant News Editor to join our market-leading rail industry brand
Former 'One' vehicle will work Cumbrian Coast trains
Launched in 2003, the RAIL100 Breakfast Club is a business networking and social club for the industry's senior managers. It helps members keep abreast of current topics within the industry and gives them the ability to discuss these with their peers. The next meeting is on 16th April.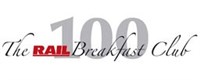 Find out more about this event
---
---