Network

28 May

Company acquires Balfour Beatty's 50% stake

Network

28 May

Members plan 36 hours of strike action plus week-long work-to-rule

Network

28 May

A brief clip of a Class 37 cab ride through Stowmarket, Suffolk

Network

27 May

Class 67 performance has increased by more than 100%

Network

27 May

Network Rail moves track for Charing Cross trains and rebuilds bridge

Network

27 May

As the number of incidents drops overall on capital's network, TfL unveils Night Tube policing plan

Trains

27 May

Units to be used on newly-electrified routes

Network

26 May

The new station will have a bigger ticket hall, step-free access and improved connections with local bus services.

Network

22 May

Event in Leeds this weekend will celebrate Hudswell Clarke and Hunslet links.

Network

22 May

Scotland's Deputy First Minister wants to reduce likelihood of further action

Network

22 May

Current improvement works being carried out at South ticket hall

Network

22 May

Secretary of State for Transport 'pleased' Bank Holiday strike suspended

Network

21 May

Branding on VT Pendolino 390131 City of Liverpool marks 30th anniversary of Prince of Wales' presidency of BITC

Network

21 May

Archaeologists have found Saxon artefacts at a Network Rail site near Stafford

Network

21 May

Manual boarding ramps installed at 28 London stations.

Network

20 May

First national rail strike in 20 years set to go ahead on May 25-26.

Network

20 May

Northern Rail, Transport for London and HS2 Ltd employees shortlisted.
Office of Rail and Road stops short of revoking safety certificate but requires WCR to make changes
Great Eastern, Great Western, Midland and West Coast Main Lines will all be subject of Bank Holiday engineering work
Launched in 2003, the RAIL100 Breakfast Club is a business networking and social club for the industry's senior managers. It helps members keep abreast of current topics within the industry and gives them the ability to discuss these with their peers. The next meeting is on 16th April.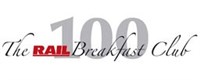 Find out more about this event
---
---