Network

Sleeper.scot allows passengers to book tickets up to a year in advance

Network

The first completed Class 800 IEP train has left Japan by boat and is on the way to the UK.

Network

Burst water main cancels St Pancras-Farringdon trains

Network

'Strategic vision' to meet demands of the railway of the future.

Galleries

As more locomotive haulage returns is set to the main line, RICHARD CLINNICK presents images from last year's use of Class 47s on London-Yarmouth trains.

Network

Eversholt Rail Group, one of the three original rolling stock leasing companies (ROSCOs), is to be sold to CK Investments SARL.

Network

Britain's largest freight operator doubles number of trains on key intermodal route.

Network

A part-assembled IEP vehicle has arrived in the UK, to be used in the training of factory workers.

Network

A revised compensation scheme has been announced for homeowners and businesses along the London-Birmingham route of HS2.

Network

Lead Executive at Virgin Trains is appointed MD, recognising his contribution to the operator.

Fleet

Repatriated Class 59 expected to be ready within weeks.

Network

Network Rail's latest performance results puts National Express operator c2c on top for punctuality.
Trials using battery powered Abellio Greater Anglia Class 379 begins on Harwich branch
The first completed Class 800 IEP train has begun its journey from Japan, bound for the UK.
Launched in 2003, the RAIL100 Breakfast Club is a business networking and social club for the industry's senior managers. It helps members keep abreast of current topics within the industry and gives them the ability to discuss these with their peers. The next meeting is on 16th April.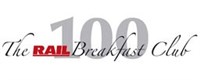 Find out more about this event
---
---