Network

Network Rail to carry out planned maintenance work

Network

First time a train has been named after a rugby team

Network

Current plans for High Speed 2 could be renegotiated if the Scottish National Party holds the balance of power after the General Election

Fleet

First pre-series Intercity Express Programme (IEP) Class 800 has moved under its own power at Old Dalby (Network Rail test centre).

Network

11% increase in the number of freight trains using the tunnel.

Network

Regulator issues formal consultation to stakeholders

Network

West Coast Main Line and Waterloo among locations that will be worked on.

Network

Vegetation removed for topographical survey to begin.

Network

Overall passenger numbers for the quarter reached 2.3 million, despite impact from terrorist attacks in January.

Network

Scotrail reveals timings for reopened section of former Waverley Route.

Network

Technology will help trains arrive on time on one of Europe's busiest networks.

Network

A brief clip of a Class 37 cab ride through Stowmarket, Suffolk.
The remnants of a station closed a century ago have been revealed as part of work to construct the Bermondsey Dive Under, as part of the Thameslink Programme.
Seven Class 700s are on test in Germany, with the first expected in the UK in August.
Launched in 2003, the RAIL100 Breakfast Club is a business networking and social club for the industry's senior managers. It helps members keep abreast of current topics within the industry and gives them the ability to discuss these with their peers. The next meeting is on 16th April.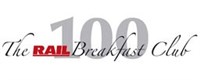 Find out more about this event
---
---