Network

30 Aug

Regulated rail fares are set to rise by 1.9% in January 2017, following the announcement of the Retail Price Index figure on August 16.

Network

30 Aug

Reliability problems with ScotRail Class 158s and shortages of traincrew combine to hit performance on the Edinburgh-Tweedbank Borders Railway.

News

30 Aug

Network Rail has thanked passengers for their patience after engineers successfully completed bank holiday weekend engineering projects on time.

Network

30 Aug

Switching from diesel to electric traction will have more effect on freight train speeds than simply increasing speed limits from 75mph to 90mph, says NR.

Network

30 Aug

Longer and faster freight trains running on a higher-capacity rail network form the cornerstone of Network Rail's draft Freight Network Study.

Galleries

30 Aug

Two-thirds of a brand new concourse at London Bridge has opened.

Fleet

30 Aug

New electric multiple units for Great Western Railway have been unveiled, ahead of their introduction into traffic on September 5.

Network

30 Aug

Britain's rail industry has scored "undoubted success in growing its market over the 20 years or so since the industry was privatised" - report

Network

30 Aug

The first of ScotRail's brand new electric units on order from Hitachi will be delivered to the UK in September.

Network

23 Aug

The railway between Dover and Folkestone will re-open following the completion of a nine-month repair project.

Network

18 Aug

RSSB (Rail Safety and Standards Board) says there is no evidence that drivers (rather than guards) operating train doors increases the risk of passenger harm

Galleries

18 Aug

The first ScotRail Class 385s have left Japan where they have been built by Hitachi. The first train arrives in the UK in October.

Network

18 Aug

Campaigners on the Isle of Wight say they have convinced DfT to drop plans for the island's rail service to become a self-sustaining business.

Network

16 Aug

Custom House station on the Docklands Light Railway (DLR) is to close for 11 months from January 2017, in preparation for Elizabeth Line (Crossrail) services.

Network

16 Aug

The £1 million upgrade of Northern Rail's Harrogate station has been completed.

Network

16 Aug

Eurostar signs contract with KBH Digital to provide advertising on its e320 trains.

Network

16 Aug

Network Rail rejects a Freedom of Information request to disclose details of discussions over a possible tram-train link at Glasgow Airport.
Great Western Railway unveiled its first Intercity Express Programme (IEP) Class 800 at Reading today, carrying invited passengers to London Paddington.
September 22 2016, Grosvenor House, Park Lane, London

A celebration of the rail industry, rewarding those who have made a huge difference to the railway network.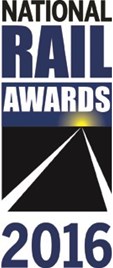 To book your table or for sponsorship opportunities - Cristina Melenchon, Events Manager, 01733 395094, cristina.melenchon@bauermedia.co.uk

Find out more about this event
---
---