Network

19 Oct

Billions of pounds' worth of new trains are on order, with many more in the pipeline. But what sort of future awaits the trains they are replacing?

Network

19 Oct

Half a century has passed since the Class 50s' entry into service. DAVID CLOUGH explores the factors that led to the English Electric D400 Type 4 order in 1965

Network

19 Oct

First electric train reaches Linlithgow under own power.

News

19 Oct

VACANCY - EDITORIAL ASSISTANT – MATERNITY COVER. Are you the most organised person you know? Do you thrive in busy environments where you can make a difference?

Network

18 Oct

Main line-certified Deltic one of two Class 55s for sale

Network

18 Oct

Easter 2018 the target for Eurostar's Dutch service as company reports rise in passenger numbers and sales revenue

Network

18 Oct

Vivarail developing proposals to include its modular D-Trains within the next Wales & Borders franchise.

Network

17 Oct

Spanish manufacturer Talgo looking for UK sites

Network

17 Oct

"We can and will do better," says Hitachi after failures on first IEP trip

Network

17 Oct

Mechanical faults hinder first public passenger run of IEP

Network

13 Oct

Progress on implementing the Fares and Ticketing Review published in 2015 is "highly uneven with very limited progress" in some areas says CBT.

Fleet

13 Oct

Fourteen Class 345s built for Crossrail so far says TfL, with eight accepted for passenger traffic.

Network

13 Oct

Private companies invested a total of £925 million in Britain's rail network in 2016-17, the highest figure recorded since 2006-07.

Network

13 Oct

No Government-made assessment of scale and timing of any required work for Ryde Pier, while SWR to submit a costed option for Island Line operations

Network

13 Oct

Network Rail and Greater Anglia join forces to tackle autumn problems

Network

13 Oct

Hitachi Rail Europe unveils first completed Class 385 for ScotRail.

Network

12 Oct

New ScotRail Alliance Managing Director ALEX HYNES talks about why he moved north of the border in June, and the challenges he faces in his new role
RAIL commissioned a poem to celebrate how British railways changed the world and to salute the men and women who keep the railway, and this country, moving.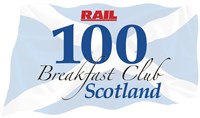 Launched 5 years ago as a result of the success of the RAIL 100 Breakfast Club in London this club brings the same benefits and opportunities to those involved in the Scottish railway industry.

The dinner is on October 26 at the George Hotel, Edinburgh. See below for more details.
Download the membership application form

Find out more about this event
---
---