RAIL Features

23 Aug

A flood of new trains is creating unpredictability in the UK rolling stock market. PHILIP HAIGH examines implications for the leasing companies & manufacturers

Network

23 Aug

Osborne calls for HS3 as Grayling says poor transport is holding the north of England back

Network

23 Aug

Network Rail releases image of new-look Edinburgh Waverley

Network

22 Aug

Almost 7,000 new vehicles on order for UK market

Network

22 Aug

GBRf charity charters raise more than £25,000 for good causes

Fleet

22 Aug

GWR sends first ScotRail-bound HST off-lease at the end of August.

Network

18 Aug

Intercity Express Programme trains reached Scotland for the first time on August 16, when the first IEP ran to Dunbar for testing.

Network

16 Aug

More than half of all escalators on the Crossrail project have been installed, with a special timelapse video released showing the progress.

Network

16 Aug

New rules proposed for heritage vehicles on main line

Fleet

15 Aug

New locomotives and wagons for GBRf if it wins HS2 deals

Network

15 Aug

CrossCountry and East Midlands Trains services affected

Fleet

14 Aug

Greater Anglia's Class 68 tour to raise funds for EACH charity.

Network

14 Aug

Network Rail has released this timelapse video showing the Waterloo works after six days.

Network

10 Aug

Up to 150 extra trains per day could serve Birmingham, under plans unveiled by Network Rail on August 4.

Network

2 Aug

Virgin Trains is inviting customers to experience travel between Scotland and London in just eight minutes

Network

2 Aug

Eurostar says strong business travel and an increase in sales from overseas markets are key reasons for 6%sales revenue growth for the first six months of 2017.

Network

1 Aug

Hitachi Rail Europe has released time-lapse footage of its £80 million Doncaster depot being built.
Transport Secretary and Ambassador of Japan see the first of 110 new IEPs come off the production line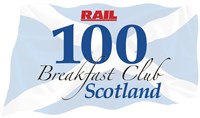 Launched 5 years ago as a result of the success of the RAIL 100 Breakfast Club in London this club brings the same benefits and opportunities to those involved in the Scottish railway industry.

The dinner is on October 26 at the George Hotel, Edinburgh. See below for more details.
Download the membership application form

Find out more about this event
---
---