Network

Baroness Kramer confirms the £16 million electrification of the Windermere branch.

Fleet

First Great Western Class 158's advertising livery

Network

Interior refreshes of two electric multiple unit fleets, upgrading ticket gates and staff recruitment are among Abellio Greater Anglia's improvement plans.

Network

Eight-year deal for Inter City Railways, a joint venture of Stagecoach Transport Holdings Ltd and Virgin Holdings Ltd. New franchise begins March 1 2015.

Network

£60 million transport hub completed

Network

More than 80,000 seats direct to Stratford and Liverpool Street for Christmas shoppers.

Galleries

Two Direct Rail Services Class 37/6s arrived at Acle on a railhead treatment train on a soggy November 26. RICHARD CLINNICK presents a pictorial

Fleet

Govia Thameslink Railway confirms start date for new Electrostars

Network

Four weeks until London Bridge part closure… Thameslink trains will not serve until 2018

Network

c2c gives birthday cake to 500 commuters for Basildon station's 40th

Fleet

For the first time in 38 years, there will be a blue Class 71

Network

Electrifying mainline rail services to the South West Peninsula could deliver a £6 billion boost to the region's economy, a new report published today says.
First section of Crossrail track installed at the new Stockley Flyover in Hillingdon (west London)
Into the depths of Aldwych, a disused London Underground station, and a look at some other closed Tube stations.
Launched in 2003, the RAIL100 Breakfast Club is a business networking and social club for the industry's senior managers. It helps members keep abreast of current topics within the industry and gives them the ability to discuss these with their peers.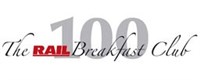 Find out more about this event
---


---