Network

Passenger demand means massive increase in size of fleet is needed, says rail industry.

Network

CCTV footage captures people taking dangerous risks at Essex level crossing

News

Northern Rail says DMUs must be retained, even though cascaded EMUs are entering traffic

News

Local authority approves plans for 35-acre rail freight terminal

Network

'Pretty serious review' pledged by Shadow Transport Secretary.

Policy

NIGEL HARRIS recalls an interview with Clare Short in 1996, in which the then Shadow Transport Secretary vowed to create a "publicly-owned, railway"

Network

Transport for London seeks contributions by March 8

Network

Four core suppliers will provide 70% of the workforce

Network

Bidders must order new vehicles, run more trains, increase capacity and replace Pacers, says DfT in franchise ITTs

Network

Appointment will boost programme development of project.

Network

A local resident with autism has improved his confidence since working at Luton railway station

News

Virgin East Coast announces its first trains this weekend
New-look East Coast train unveiled at King's Cross on second day of new franchise.
School attended by two girls killed at Elsenham level crossing has helped make a film to raise awareness of the dangers.
Launched in 2003, the RAIL100 Breakfast Club is a business networking and social club for the industry's senior managers. It helps members keep abreast of current topics within the industry and gives them the ability to discuss these with their peers. The next meeting is on 16th April.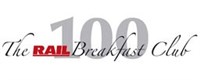 Find out more about this event
---
---