Network

Operating and unit costs reduced by 6%.

Network

Airport calls for increased frequency in next Anglia franchise.

Network

Safety-critical systems could be privatised to raise money for Government.

People

Montgomery to stand down in May after all.

Network

Pub set for mezzanine over concourse

Network

'White Stag' brand launched at Guest Service Centre and on Class 67.

Network

Shadow Transport Secretary says Direct Award makes "a mockery of the current franchise model"

Network

New trains to be delivered subject to DfT approval.

Network

Secretary of State for Transport makes official announcement regarding Direct Award for TPE

Network

Hourly shuttle service to operate

Network

New lifts at station improve disabled access

Network

Very first real-time passenger information system has been installed on a passenger train
More than 360 AT300 vehicles destined for Devon and Cornwall.
Science Museum ratifies designation of commemorative locomotive.
Launched in 2003, the RAIL100 Breakfast Club is a business networking and social club for the industry's senior managers. It helps members keep abreast of current topics within the industry and gives them the ability to discuss these with their peers. The next meeting is on 16th April.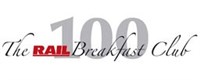 Find out more about this event
---
---